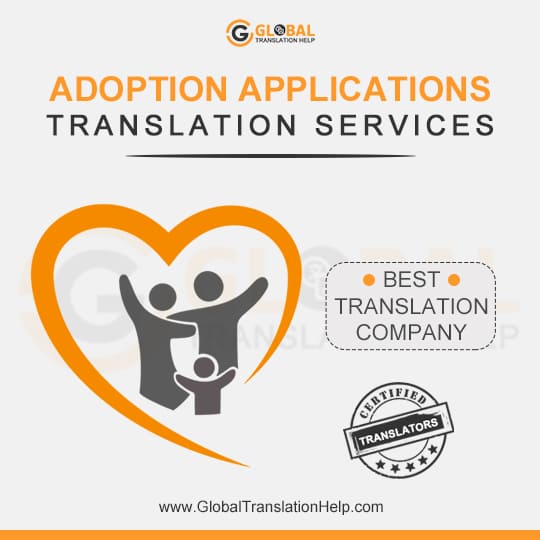 ACCURATE ADOPTION APPLICATION TRANSLATION SERVICES
Where can i get online Adoption Application Translation Services? If you wish to adopt a child from another country, you may have to face one problem. One may face language barrier in your country and the child's native place. Therefore, in that case you may not be able to go through the adoption process. So, to overcome this problem you may need to take Translations of adoption application from experts.
Global Translation Help can provide you exact and accurate translation support for adoption certificate. Accurate and timely translation of adoption documents is important to ensure the adoption process is smooth for your family. Therefore, you'll need a certified translation of these documents, but in some situations, a standard translation might suffice. Further, it is very important for you to inquire about all the need of the receiving party.
Like birth certificate, adoption certificate is valid for different official purposes. Adoption is the act of undertaking another's child's complete care, protection and upbringing. Therefore, after the adoption, all responsibilities and rights of upbringing the child are transferred from biological parents to the child's adopted parents. Different countries have different laws and attitudes regarding adoption. Therefore it is a sensitive issue which requires certified translations for an exact and clear understanding.
---
ATA CERTIFIED TRANSLATORS FOR TRANSLATION OF ADOPTION APPLICATION
In the United States, the officials at Immigration Service (USCIS) review adoption documents. It is to make sure there is no negligence or abuse of human rights during the adoption process. As adoption involves a lot of formalities, it may need careful and professional guidance. So it is always recommended that you only hire a certified adoption document translator for precise and apt translations to clear all loopholes.
Our ATA Certified Translators for legal translations have effectively translated lots of adoption papers. We will provide help with adoption application translations in over 200 languages. Further, we have a huge team of translators, all of them qualified to handle high sensitivity document. You can state all your translation requirements while placing the order. We promise to translate your adoption document as per your guidelines.
Officials accept only certified translations of documents like court certificate document or adoption certificate for legal verification. So, you can hire a translation agency to do that and then wait for them to finish their job. Make sure to choose the most reliable agency to provide you accurate translations. Some might take advantage of your situation and might not even provide you with quality work. We however will serve you with the most accurate and certified translation of any legal document you need.
LEGAL DOCUMENT TRANSLATIONS AT CHEAP PRICE
Translation of adoption certificate is a highly risky job that may cause high complexities if not translated appropriately. So it needs utmost accuracy as it is highly a sensitive translation. Therefore hire trained and specialized translators from our team who can produce the most accurate adoption certificate translations.
Most importantly, they focus on maintaining the original integrity of the source document. Our team of translators has been carefully selected who are prolific in bilinguals to meet the industry standards and they are meticulously trained. Some of the major legal documents for which we provide translations are:
Contracts
Wills
Driver's License
Divorce Papers
Court Orders
Letters of Credit
Name Change Document etc.
Our document translation services extraordinary. No matter how lengthy your application is, we promise the precision and completeness of the Adoption Applications Translation Services. We will assign dexterous and proficient translators who are subject matter experts and qualified to translate your documents.
---
FAST AND AFFORDABLE ADOPTION APPLICATION HELP
Customer satisfaction is are main focus. Therefore we provide fact and accurate translations for all your documents. Further avoiding any rejections or delay. Moreover, it doesn't matter what legal document you need to translate, be it your adoption certificate translation or your passport or any other, we will do it.
It takes just 24 hours to translate for each 2 pages of content. Above all, the translations provided by us are accepted & approved by USCIS, state, federal, and local governments. We boast about providing world-class translation services for the adoption process. All of our full-time translators have a proven track record of more than 5 years in the translation industry.
They offer professional certified and notarized translations in the language. We have competitive and standard charges for all our translation services of adoption application. We will help you make the adoption process as painless as possible and the cost will be very affordable.