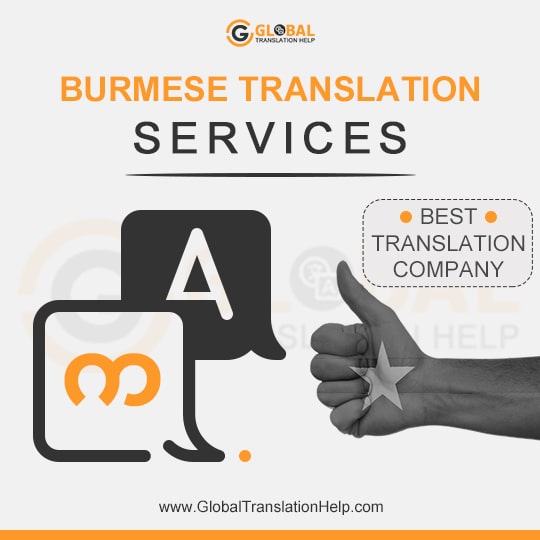 FLAWLESS & ACCURATE BURMESE TRANSLATION SERVICES
Seeking for error free online Burmese translation service? You're just at the right place. Global Translation Help is a Burmese translation company that offers Translation Services in Burmese. We have a team of more than 75+ professional native Burmese translators across the globe specialized in diverse fields. Therefore, if you are in need of translation of Burmese document to/from any language you just need to contact our team. Moreover, our company employs several of the most qualified specialized native linguists and subject matter experts in Myanmar. In addition to it, we provide 100% human translation for all our clients. So, pay to get flawless Burmese language translations with utmost accuracy, clarity and authenticity.
Burmese is the main language of Myanmar (Burma). It is spoken as the first language by 33 million native Bamar (Burman) people and related ethnic groups. Although the Constitution of Burma officially recognizes the English name of the language as the Myanmar language, many English speakers continue to refer to the language as Burmese. All our Burmese translators are native speakers of the language they translate as per the latest translation certification standard. Our experience and know-how ensures we will take care of all your Burmese translation requirements, offering you a one-stop translation solution.
---
BURMESE DOCUMENT TRANSLATION SERVICES
Our innovative spirit inspires what we do and how we do it, providing valuable benefits for customers and employees alike. Our network of Burmese linguists covers all the industries, so for interpreting assignments, we will contract a local interpreter where possible to avoid costly travel time and expenses. Professional Burmese translation services are provided by Burmese translators who have a wide breath of experience and specialism. Moreover, all our Burmese translating experts adhere and vetted to our quality standards. We can translate from simplest of the document types to the most complex document types. Following are the common type of documents that we translate:
Business document translations
Legal translations
Medical document translations
Website document translations
Scientific translations
Academic etc.
We provide premium quality services for all types of translations. Moreover, we have technical experts available for technical document translations as well. So, get in touch today to find out how this winning combination can meet your Burmese translation needs.
HIRE CERTIFIED BURMESE TRANSLATORS AT LOW PRICE
As a reliable provider of exclusive Burmese translation services, we work hard to deliver value for money. Our cheap rates reflect our commitment to deliver genuine, across the board affordability. Thousands of global clients trust our fully certified Burmese translation services. We can usually process your passports, birth certificates, divorce certificates and academic certificates within 24 hours. Moreover, all our professional Burmese translators are local speakers of the language. They translate as per the newest translation certification standard. And also translate in expert fields and across a different range of sectors in the Burmese language.
Hire an expert translator of Burmese document from our dedicated team who will look after your work from receipt of your request till delivery. We are always on hand to advise you, and our experience ensures you receive first-class, accurate translation – on time and on budget. Above all, the notarized Burmese document translations are handled only by the most experienced Burmese tutors. Also all certified translations are proofread and verified by one of our linguists and then double checked to ensure you receive the highest certified quality. Therefore, buy accurate and authentic Burmese language translations from ATA certified translators only from us.
---
24*7 ONLINE ASSISTANCE FOR BURMESE TRANSLATION SERVICES
Global Translation Help offer professional Burmese translation help to public sector law firms, doctor's surgeries, businesses, Government bodies and many other industries. Just place a request we will get back to you for any document you need. Moreover, we have a 24*7 customer support team who are available round the clock at your service. Our comprehensive offering will be altered according to your requirements and targeted to your commercial objectives. Whatever your language requirements, we have the breadth of knowledge to offer advice and the depth of knowledge to deliver quality.
We draw from a group of over 75+certified native translators who can offer the highest-quality Burmese translation solutions on time and at affordable prices. Moreover, all have more than 5 years of translation experience for all public and private sectors. They have deep understanding of legal terminology will turn around your document with totally realistic price. So, no matter, which document you want you translate to what language at what time, we will do everything for you at cheap price.