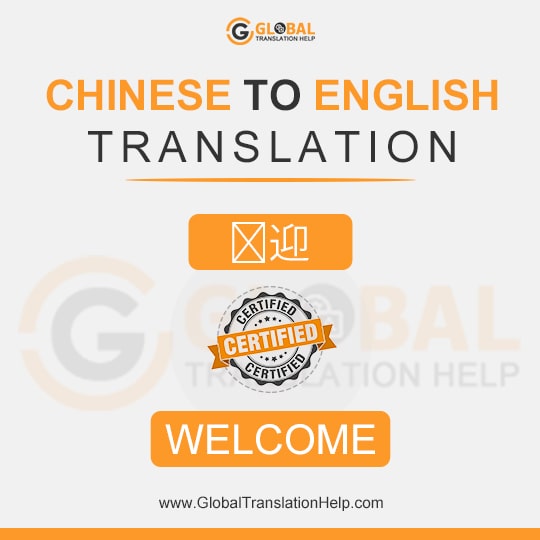 PROFESSIONAL CHINESE TO ENGLISH TRANSLATIONS
Are you looking for someone who can translate your Chinese documents into English? You're just at the right place. We have a team of professional and experienced linguists who provide professional Chinese translation services. Moreover, they localize the translation as per the client's needs and help the client achieve his goals. We guarantee an efficient and high-quality Chinese to English translation service that meets all your translation needs.
Chinese is the most spoken language in the globe regarding the number of native speakers, with around 935 million natives. Chinese is an official language of China, Taiwan, Singapore, Wa State and Brunei. Moreover, it is officially used in the United Nations as well. Most importantly, Simplified Chinese and Traditional Chinese are the scripts in which the Chinese language can be written, and Mandarin, Taiwanese, and Cantonese are the spoken forms of the language. Therefore, our certified Chinese to English translators are qualified native speakers who have experience in translating for over 1000 clients. So, we can provide you with certified Chinese to English document translations of your original medical, legal and general documents, and certified translations of all original Chinese documents in a range of destination languages.
---
ACCURATE CHINESE TO ENGLISH DOCUMENT TRANSLATIONS
Translating Chinese documents into English or vice- versa is a very complex task. Moreover, only those translators who have proficiency over both the languages and their grammatical structure can present an accurate translation of Chinese to English document. From Global Translation Help, you can therefore buy 100% manually translated English documents online anytime. Moreover, we bet you won't be able to find any better translator of Chinese Documents than our native China translators. Some of the many document translation services Chinese to English are:
Chinese Business documents into English
Chinese to English translation of Legal Documents
Academic Chinese to English translation services
Chinese to English translation help for Marketing
Medical Chinese to English translation
Chinese to English website translations
and many more. Just ask us for 'translate my Chinese document to English' and our expert British translators will do it for you. Moreover, Certified Chinese to English translation is not an easy task to conquer, and yet the need for professional Chinese translators is growing rapidly. Above all, more and more businesses, agencies, and individuals need Chinese document translation services to communicate with their Chinese business partners, target audiences, or employees.
CHINESE TO ENGLISH TRANSLATION FOR USCIS
Translating Chinese documents into English for immigration is such a difficult task to achieve. Therefore pay to get professional translation services Chinese to English from native translating experts. Hire British translators who offer accuracy in translating Chinese documents for immigration as the notarized true copy of the immigration documents is needed to verify the passport or similar travel documents. In addition, all the certified or notarized Chinese to English translations will have guaranteed acceptance by all legal authorities.
USCIS requires your translated documents to be certified. Therefore, we can provide you with certified English translation for USCIS. You can entrust on us in providing you a certified translation for immigration. Moreover, our experts provides high quality, cheap Chinese to English translation services using a tested team of native, in-country Chinese translators. Important immigration document translations in Chinese that are offered by certified experts would be
Permanent Resident Card

Tax Returns

Work Permit

Immigration Visa

Reentry

Permit

Refugee Travel Document

Arrival Record

etc.
Further, we also translate from Mandarin Chinese to English or Cantonese Chinese to English in many areas. For instance, technical, medical, legal, patents and IP documents, software, engineering and financial translation services. So, end all your translation stress just by ordering our online translation services at cheap price.
---
100% ERROR FREE TRANSLATION HELP WITH ON TIME DELIVERY
There are many instances when one may need to translate a Chinese document into English. Our team of Chinese translators is composed of translators that are certified by professional translators' associations such as the American Translators Association. Moreover, we can provide certified Chinese to English translation services by translating your document to/from Chinese. Our certified Chinese translators are highly qualified and can provide the best quality of translation services for your personal or other documents.
Our in-house legal team includes notaries and lawyers who can further notarize and legalize any certified document accurately. In addition, all notarized Mandarin to English translated documents will not be rejected by any legal authority. Therefore, saving you time and money as you will never have to go through another Chinese to English translation agency to ensure your documents are issued with the appropriate level of authentication. Our legal team will be happy to advise you on the level of certification most suited to your needs.