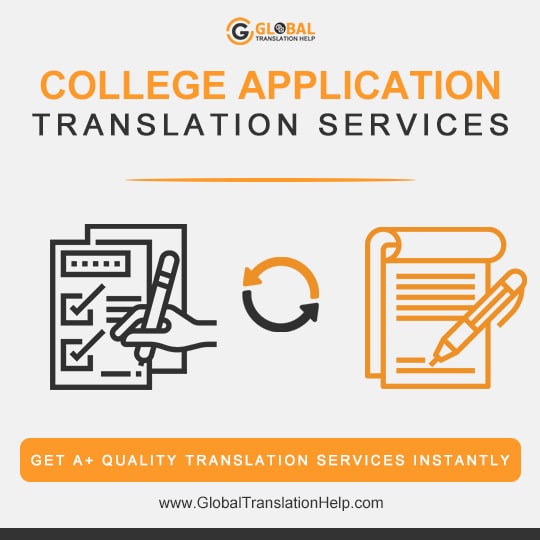 TOP- NOTCH COLLEGE APPLICATION TRANSLATION SERVICES
Are you a student applying to study at a foreign university? Then there's a good chance that you may need to translate you college application into the native language where you're applying. If so, Global Translation Help is at your service to provide you the best college application translation service at budget. You'll therefore need to organize a certified translation of those documents as part of your application to the university.
If any of your academic documents you are submitting are not in the native language, the original should be translated by an expert translator with full certification. Therefore, hire native college application translator who can translate your college application with accuracy and precision. Above all, our College application translation services are the best in this translation industry.
Our expert translators of college applications are therefore capable of providing you with high-quality document translation services at a very cheap cost. Here, we offer academic translation services at competitive prices for 200+ languages. Moreover, our network of experienced translators specialize in a wide range of industries. For instance, academic, legal, business, technical and many more. So, contact us for all your translation requirements at all educational levels and in all academic subjects.
---
COLLEGE APPLICATION TRANSLATION IN OVER 200+ DIALECTS
Pay to translate your college application within 24 hours with 75+ professional language experts working over 200 languages. Moreover, we provide high quality translation services with our zero error policy. That is to say, we first perform automated checks and editing and proofreading of all our documents before delivery. Further, these university application translation services we offer are fast and accurate translations. Below are few of the many languages we provide translations in:
| | | | |
| --- | --- | --- | --- |
| Arabic | Bulgarian | Chinese | Dutch |
| Estonian | French | Greek | Hebrew |
| Indonesian | Japanese | Korean | Latvian |
and many more. We promise to meet your deadline, and will normally return your certified translation before that. Moreover, our experts can provide translations of all your academic certificates like for example , transfer certificate etc. for your college application.
CERTIFIED TRANSLATION SERVICES FOR ALL DOCUMENTS
A certified translation verifies and authorize a record. In fact, many legal and official bodies demand for certified translations. To clarify certified translations ensures that the original document is compared with the true copy and its accurate. We follow the strictest standards for certification. The ATA certified translator attest to the precision of all degree translation service. Also, every page of your translation is sealed to reduce the possibility of fraud.
So now you know that you need to get translation of university transcripts to apply abroad. It's important to be also aware that you can't translate your university degree certificate yourself, or have them translated unofficially. You need to get a certified translation services from professional translators. Otherwise they won't be accepted and your university application will be delayed and potentially denied.
Global Translation Help experts have proficiency and knowledge to certify and provide translation of official document. Further, they can translate all your academic papers like essays, research papers, dissertations as well. In situations where official translation is essential, it is advised to work with an expert individual or agency that has a great deal of knowledge with the academic discipline in the query. Hire professional ATA certified translator for all your university degree translation services at cheap prices.
---
AFFORDABLE COLLEGE APPLICATION TRANSLATION HELP
We're a professional translation agency and a Member of the ISO. Our translations are fully accredited and recognized for their quality and on time deliveries. You may therefore validate our reliability by checking out the customer reviews on our website. Once you receive your certified college application translation from us, we guarantee that it will be accepted at every education body throughout the world.
Our main focus is client satisfaction and our native linguists do nothing to hamper it. All you have to do is ask us for 'translate my college application' and state all your requirements. The expert translators are keen to follow the guidelines laid don by the university and by you. To clarify, all the translations of university applications we present will be done according to your requirements ensuring all your needs are met.
Although translation rates per word are the most ordinary method, it is significant to consider when to use different methods. We will not loot your pockets or charge high rates. Our expert translators will provide you the highest quality of translations at the lowest prices.