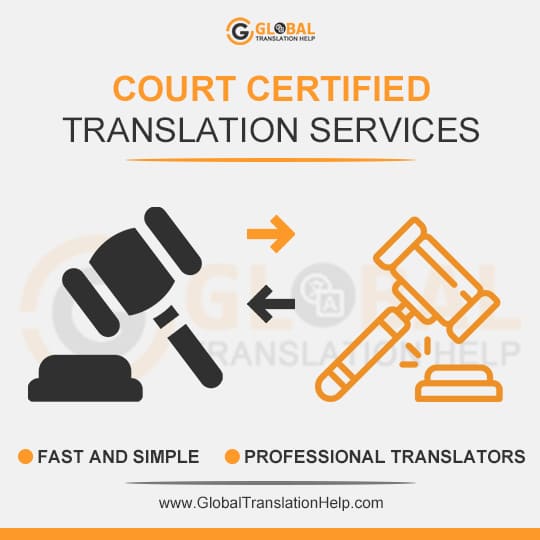 EXQUISITE COURT CERTIFIED TRANSLATION SERVICES
Do you need Court Certified Translation Services on time? You're just at the right place. Global Translation Help therefore presents to you the best certified legal translation at the lowest price. Hire professional legal translators to translate various types of court-certified translations. So, pay to get high quality and certified translations on time.
Above all, our turnaround time is our key feature to ace this industry. Further, we understand that time is a valuable resource, which is why we make sure that we always beat the deadline we set for our client. Moreover, we allow our clients to review our translations. Adopting this practice also gives us enough time to make necessary revisions if there are errors from our final projects.
A court-certified translation is used for civil or criminal judiciary purposes. You can pay to get translation services for court through any legal professional. But, if you want to get your certified court order translation then you can get those services through various language translation companies. A certified translation does not necessarily mean it is from a certified translator. Moreover, it only requires certification from a language translator stating that it is accurate and remains true to its source document.
---
200+ LANGUAGE TRANSLATIONS FOR CERTIFIED COURT DOCUMENTS
Firstly, it is important to find the best translation agency since it clearly understands the nuances of legal translation. Moreover, a good translation agency will have certified translators for court documents. You will therefore get the best quality translation from proficient and expert court certificate translators.
These translators have been working and studying in the field of law. It is therefore important that the translators should not just be proficient in the source and target language, but also in the field. Further, hire multilingual legal translators who can provide court certified translation help for over 200 languages. For instance, we cover all the Asian and European Union language like
| | | | |
| --- | --- | --- | --- |
| Bosnian | Arabic | Catalan | Bhutanese |
| Korean | Malayalam | Latvian | Chinese |
| Indonesian | Lao | Greek | Persian |
| Malay | Dutch | Tagalog | Japanese |
CERTIFIED LEGAL DOCUMENT TRANSLATIONS BY SWORN TRANSLATORS
Pay to take certified court translation services from the best native translators in the world. So, hire legal translators from our team who take special care in translating all your legal documents. Further, one may need legal certified translations for many reasons. For instance, you may need certified translations of various documents in order to apply for immigration.
You are therefore required to translate various types of certified documents for USCIS or ICA use. So, our dexterous sworn translators will translate certified court documents which will be accepted by all legal bodies. Some of these documents include
Marriage certificates
Divorce notices
Wills
Name Change Certificate
Patents
Passport
Trademark filings
Legal disclaimers
Immigration documents etc.
Moreover, our experienced team of qualified translators will present high quality and valuable translation of legal documents at affordable rates. Nevertheless, proper translation services are required to satisfy the needs of the receiver.
---
ACCURATE COURT CERTIFIED TRANSLATION HELP ON TIME
It is very important to take help from someone can provide your accurate certified translation of your legal and court- certified documents. Therefore, avoid taking help from inexperienced or translators who are not certified. To clarify, their translations may end up being a disaster and can even put you at risk or any kind of legal action against you.
While there are countless websites who provide these services, it is most important to pick the one with accurate and quality translations. Immigration officers and ICA have a very strict and straight verification process. A single error or alteration, you will have to face rejection. Therefore, a certain level of quality should be reached in order to pass these tests.
Avail accurate legal translation of documents by certified linguists who are the native speakers of the target language. Moreover, we promise to provide natural authentic translations that exactly matches the original legal document.