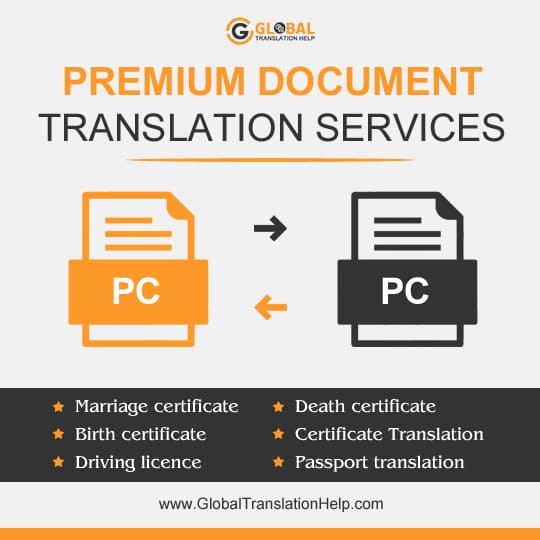 ACCURATE TRANSLATED DOCUMENTS ON TIME
Certified document translation services can be availed by anyone, from anywhere, for any document, in any language only from Globaltranslationhelp.com. Therefore, hire reliable and skilled document translators for the most accurate document translations with utmost clarity and naturalness. Our clients have never faced delayed services as all the certified translated documents are delivered to you on the same day via email.
---
NOTARIZED OR CERTIFIED DOCUMENT TRANSLATION FROM SKILLED TRANSLATORS
Most of the immigrants or other customers seeking for document translation services online look for either certified document translation services or notarized true copy translation help online. Hire experts in document translation who possess creative skills and rich vocabulary in any language you request for. If you online document translators, without any doubt you should approach us. We have a huge team of native translators for official translation of documents. Major types of certificate translation services we provide are:
Technical Translations

Legal Document Translation Services

Medical

Document Translations

Scientific

Translation Services

Business

Document Translation Services

Language Translation Services
and many more. Although most of the authorities ask for certified document translations of birth certificate, driving license, divorce papers etc. In addition, we also offer notarized document translations for immigrants and those in need. Some of the document that need notary public translations for example passport, Green Card, Visa and such other documents. In addition to it, we know how customers from all over the world seek for online translated documents with certification. Therefore, our local translating professionals offer 100% secure and certified true copy for any language you wish for. In short, put an end to your official translation of documents stress and hire government certified translator for document translations in any language.
---
100% MANUAL TRANSLATION FOR 200+ LANGUAGES
Global Translation Help has won its place among the top ranking Translation Service providers in this industry. Certainly, pay to get services from the best certified linguistic experts who will never compromise with the quality of the final document. Moreover, online certificate translation services has become a need for most of the service industry whether it be be business, legal, medical or any other industry. We have global clients who request us for 'do my document translations urgently'.
Our professional translators offer instant certificate translation services and will deliver the translated true copy within a few hours. Best document translation services for over 200 languages including Asian languages like Arabic, Korean, Malay, Chinese etc. and European Union languages like Spanish, Dutch, Portuguese and many more. In conclusion, buy online document translation help services for any document in any language online from us.