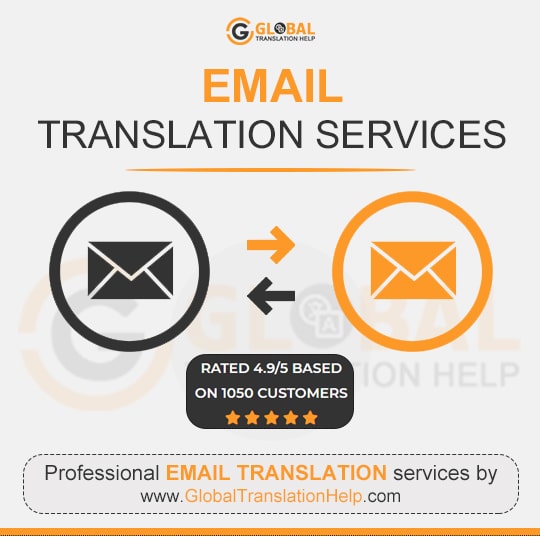 24*7 ACCURATE EMAIL TRANSLATION SERVICES
One may need to get Email translation services due to various reasons. For instance, you have a foreign client who offered a proposal via mail and you can't understand, you may need help with Email translations. Or you may have a foreign client who only understands his native language, you may have to pay to get professional email translation help.
Let the situation be any, one faces the need to get translation services for Email at one point of time. Moreover, not everyone can translate your Email. You have to hire a professional Email translator for translating your online documents accurately. Our agency provides business e-mail translation to business entities all over the globe. We have an effective and efficient system that allows us to offer translation help 24/7, even on weekends and holidays.
The main aim of our company is client satisfaction, therefore we focus more on keeping it easy for the clients. Moreover, we present high-quality outputs at a minimum turnaround period. We have provided translation assistance to thousands of clients around the world. Through years of operation, we have earned a reputation for providing top quality, on-time, and accurate e-mail translations of almost any language.
---
EMAIL TRANSLATION HELP SERVICES IN OVER 200 LANGUAGES
Don't worry if you want to get your Email translated into some complex language, we have the perfect resource for all your language translation stress. Our Email expert translators have the proficiency to serve you with the best translation help for Email in any language. We offer mail translation services for 200+ languages both Asian and Europian Union languages.
Although emails can be used for personal conversations, they are quite useful for businesses. Corporate data can be shared easily through electronic emails. Since the internet is available everywhere in the world, people can easily send an email to anyone from anywhere they want. However, emails cannot be of much help when there is a linguistic barrier between the sender and the receiver. We promise to remove this barrier resulting in increased globalization.
No matter whether your client is Chinese, Indonesian, or even Thai, we will translate the document for you. Some of the major languages in which we translate are:
| | | | |
| --- | --- | --- | --- |
| Chinese | Estonian | Dutch | Greek |
| Bengali | Italian | Malay | Korean |
| Farsi | Japanese | Russian | Croatia |
| Portuguese | Spanish | Thai | Cambodian |
HIRE CERTIFIED TRANSLATORS FOR EMAIL TRANSLATIONS
There are many translation companies offering professional email translation support that are quite common and are widely available. However, not everyone will be able to provide you with accurate and error free electronic mail translations. In this context, pay to get reliable, cheapest and accurate email translation services from one and only Global Translation Help. By taking our help, we can guarantee top quality mail translations at the most minimal cost. Moreover, we make sure that only the best and most accurate translations leave our doors. This way, we can make sure that our clients receive the best and quality service.
Above all we have also adopted strict privacy regulations. We will not share your e-mail to any third-party. Moreover, as for our rates, we always offer flexible and negotiable rates to all of our clients. Our expert Email translators provides all types of document, website and other types of translation services. When you approach the business e-mail translators for e-mail translation services from our website, they get the best works of translated documents.
Our business model is designed to serve to small and large business alike. It does not matter if you need translation for just one or thousands of e-mails. Regardless of quantity, we always make sure that we provide you with the best solution. No matter which language you want to translate the e-mail to/ from, we will do it for you on time.
---
WANT FAST AND AFFORDABLE EMAIL TRANSLATION SERVICES?
We are the best option for you. Our professional certified and standard email translations for business are designed with speed, quality, and accuracy in mind. We support businesses of all sizes across dozens of industries with seamless and efficient workflows to ensure all documents are properly translated and delivered on time. We promise to never delay the delivery of your translated Emails. Moreover, our expert email translators present their exclusive services at the most affordable rates.
In conclusion, as we all know, email is one of the most important means of the cheapest and fastest communication medium. Emails can connect one to another from anywhere anytime. Thus, you can get accurate email translation services from us on time at affordable prices. We have provided premium e-mail translation solutions to thousands of business and clients around the world. You may validate our quality services by the customer reviews that highlight how effective and streamlined our services are. So, don't hesitate and contact us for all your document or website translations.