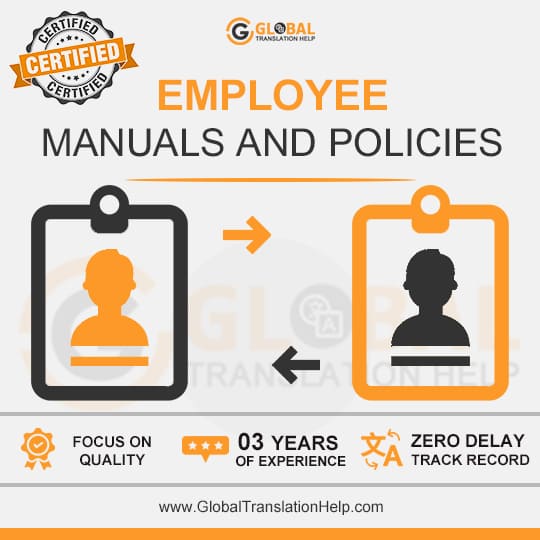 24*7 ASSISTANCE WITH EMPLOYEE MANUALS AND POLICY TRANSLATION
In order to make your employees understand company policies and procedures, employee manual is important to ensure safety and efficiency. Therefore, you'll need to have Employee Manuals And Policy Translation Services. So that your staff understands the rules in their native language. Typically you may need a professional translation for this type of document. However, you could possibly require a certified translation if you are using it for court proceedings or other official uses.
Global Translation Help is here to support your need of employee manual translation help. We are your best bet for an accurate translation delivered quickly. Further, employees in a firm rely on Employee Manuals and Policies as a source of applicable information concerning corporation policies and procedures. For international companies with operations in different markets around the globe, accurate Employee Manuals and Policies Translation Services are necessary.
Human resources professionals such as directors and coordinators often draft employee handbooks. Firstly, they write it in English that they later translate it into foreign languages. The main purpose of translating these employee policy documents into other languages is to make the information accessible to all. That is to say, for the employees who do not understand English or feel more comfortable reviewing information in their native language.
---
EMPLOYEE MANUALS AND POLICY TRANSLATION for 200+ LANGUAGES
Besides our other specialized translation services, we offer the best language translations for Employee Manuals And Policy. Here, we always help our customers translate their Business in a variety of languages. Above all, the purpose of our translations is to achieve better communication between company and its employees. Especially when it comes to Employee manuals and Human Resources rules, and regulations.
Moreover, we also provide employee pass and and other technical translations for over 200 languages. So, some of the major languages we help with translation are:
| | | | |
| --- | --- | --- | --- |
| Latin | Arabic | Bulgarian | Bhutanese |
| Korean | Cambodian | Thai | Chinese |
| Hindi | German | Greek | Persian |
| Malay | Dutch | Khmer | Japanese |
When you need to translate your company's employment manual, hire expert translators from us for a fast and efficient solution. Moreover, we have been translating employee manuals and policy for dozens of companies in over 200 languages.
IMPORTANCE OF EMPLOYEE MANUALS AND POLICY DOCUMENTS
Whether you are a local business or a multinational company, maintaining an employee manual is very important. provides cost-effective solutions to meet your human resources translation needs. Therefore, it should be one of the first formal communications that you will have with a worker once you hire them.
The employee handbook or manual must be basic and not overwhelming to the employees. If you want the employees to follow the the guidelines, the translating must be accurate yet simple to understand. Moreover, the translation should be in their local language to make them recognize the "do's and don'ts" while performing their responsibility.
We specialize in translating employee manuals, employee contracts, training videos websites and newsletters. Therefore Global Translation Help is trusted to provide language translation help to HR departments and recruiters from all over the world. Our quality assurance is fully ISO-certified and most of or translators have certification from professional associations as well. So, pay to get employee policy and manual translation services from native linguists who provide high-quality human resources translation on time.
---
ACCURATE AND AFFORDABLE TRANSLATIONS OF EMPLOYEE MANUALS AND POLICY
We understand the importance of native professional translations of employee manuals. Therefore, we have a large number of in-country and immigrant native translators working in various language pairs. This allows us to provide our clients with accurate and authentic employee document translations.
At our agency, we constantly help our clientele translate their materials in a range of languages. The purpose of our translations is to get better communication among businesses and their workers. We also offer name change translations and payslip translations as well.
Avail the best translations for any kind of industrial translation that you wish to convert and that too, with the assurance of quality. We have an online word counter tool that will help you assess the word count. So, you pay get exclusive translation help for employee manuals and policies at the lowest rates.