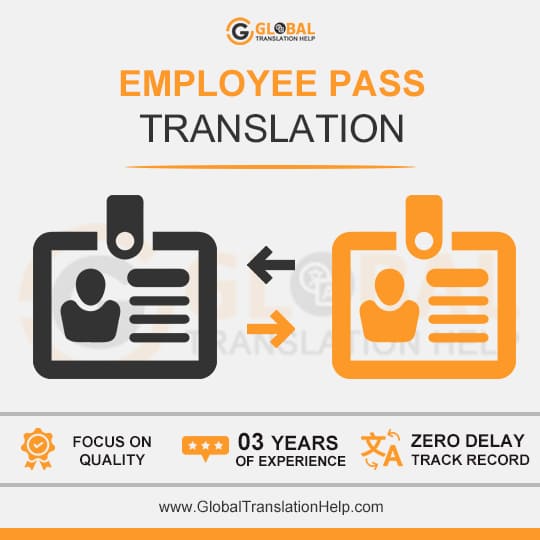 WANT PROFESSIONAL EMPLOYEE PASS TRANSLATION SERVICES ?
We are the best option for you. Global Translation Help provides professional Employee Pass Translation Services with utmost accuracy. As an employee when you get your employment pass, you need to translate it for various official purposes. Moreover, it is quite useful to keep a translated copy with you. At Global Translation Help, you may hire professional native translators' help to translate your employment pass.
Employment Pass (EP) is a work visa which allows professionals, managers, and specialists live and work in a foreign country. Therefore, acquiring an EP translation involves a careful and precise translations. Moreover, the translation of employee pass should be according to the requirements of the Ministry of Manpower's latest regulations.
Work permit or employee pass is a very important document in the field of employment. Moreover, for legal and immigration uses you may need to translate your employee pass. Therefore, hire expert employment pass translators who offer fast and affordable translation services. They offer affordable and accurate translation for many international organizations, for instance employee contract or employee pass translations. So, for any and every work permit translation by expert translators from all over the world.
---
TRANSLATION OF EMPLOYEE PASS FROM CERTIFIED EXPERTS
Employment document translation is done only after you get your pass in Singapore. You also need to submit some of the supporting documents in order to get an employment pass. We are a squad of expert EP translation professionals who offer the best translation services at reasonable rates. Our document translation for working in other country is appropriate for people who desire to translate their certificates from one language to a different language.
Translating the certificate is not an easy task so for that you need to take help from a professional translation agency. We have a group of capable employment pass translators who specialize in handling all kinds of translation. The USP of our translation service is that we use premium translation techniques to offer certified translation services with better precision.
DOCUMENTS NEEDED FOR EMPLOYMENT PASS
A copy of your passport.
Academic certificates.
Latest business profile and company information which on e need to register at Accounting and Corporate Regulatory Authority (ACRA).
Personal details of the applicant.
The verification proof must confirm that the qualifications are genuine and were awarded by accredited institutions.
Moreover, in case the documents are in your native language, you may have to translate them into the target language. Pay to get certified EP translations from expert legal translators. Further, we assure you that all the translations we provide guarantee acceptance from all legal bodies.
---
ACCURATE AND AFFORDABLE EMPLOYMENT PASS TRANSLATION
We focus on the excellence and accuracy of the translation. That is to say, an accurate document translation will assist the customer in accomplishing his objective. Thus, we ensure that the quality quotient in the output is constantly higher.
In addition to translation, our experts also provide editing and proofreading services in order to ensure accuracy and quality. The translators in our team have superior language skills which make a translation of documents easy. Therefore here, you hire native translators who translate the entire original text by understanding it. They translate from one language to another using the right tone.
Above all, we provide cheap translation services from over 200 languages. If you want to get high-quality professional translation services at an affordable price, we are what you need. UTS makes your life easier by providing the best quality translation services at a cost that is affordable by anyone and everyone.