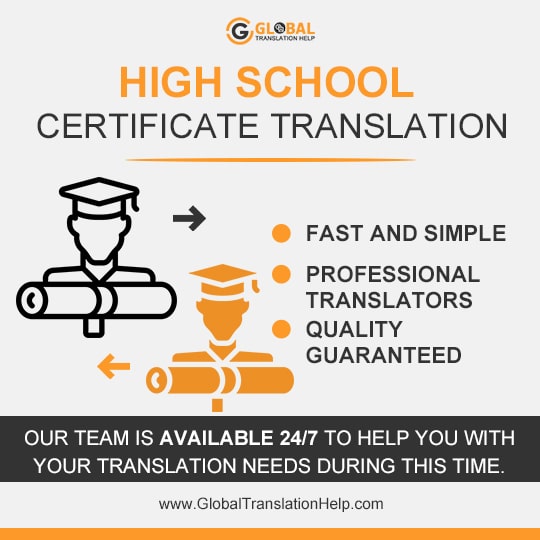 AUTHENTIC HIGH SCHOOL CERTIFICATE TRANSLATION SERVICES
Are you applying for higher education in abroad and need high school certificate translation services? Sometimes scholars may need High School document Translation in order to get admissions in overseas countries or any other reasons. So, to ease all your certificate translation burden, Global Translation Help is here at your service.
Most of the time, when you seek for high school diploma translation, your main concern would be the accuracy. Our native high school certificate translators provide high quality translation services with our zero error policy. Moreover, we perform TEP services for all the documents that we receive. So, there would be no chance of any type of alterations or errors.
Translating your school certificates can easily get you through the country of your choice. Therefore academic document translation is provided by various professional agencies that are accurate and very reliable. Moreover, we will translate all your academic certificates such as transfer documents, diploma certificate, etc. We promise to present ISO licensed and the best diploma translation services.
---
ACADEMIC DOCUMENT TRANSLATIONS BY CERTIFIED TRANSLATORS
The main aim of our translation agency is client satisfaction, therefore all the services that we provide will be accurate. It is our honor to translate your high school certificate for you lift up to the next level on your educational checklist. Educational document translation is one of the major kinds of translation that is required among students and people wanting to study further.
If you are one of them seeking to expand your horizons by moving to another country for education, a professional educational certificate translating will help in translating your educational documents. Some of the major Academic documents that we translate are:
College Applications
Educational Certificates
Academic Assignment
Dissertation Translation
PPT and Papers etc.
It takes more than just good dialect skills to come up with a perfect academic translation, however. Translation requires qualification and skills and because of this, we make sure that all the translators we work with have at least five years of experience in the field. So, for any document translation services just approach us.
HIGH SCHOOL DIPLOMA CERTIFICATE TRANSLATIONS AT BUDGET
Our expert high school diploma translators are adept in translating education certificates from or to any language including all EU and Asian languages. Moreover, in a format which will be accepted by educational institutions across the world. Our legal team can certify or notarize the translations if required, you just have to mention the requirements.
Fast and on time deliveries, ATA certified translators, affordable and cheap prices and many more. In conclusion, all these have made us one of the leading and most affordable document translation website. Moreover, in case you want your translated documents even before 24 hours, we also provide urgent translations that too at cheap prices.
Our company also protects our customer's personal interests and also their official stature through our security protocols and confidential procedures. Moreover, the academic translators in our team are contracted with non-disclosure agreements for confidentiality purposes. So, if you have a demand for any tyoe of translation, we have our 24/7 customer support for assistance all the time.
---
ORDER NOW! THE BEST HIGH SCHOOL CERTIFICATE TRANSLATION
We have serving thousands of global clients for years. Moreover, we deliver high quality, authentic and accurate service to all of them in various sectors. For instance professional marketing translation, legal papers, manuals, accounting documents, technical documentations and many other documents.
Our translators of high school certificates can provide the best academic translation services in this industry. Our High School Certificate Translation experts caters professional translations with utmost accuracy, clarity and naturalness. You may also testify our quality services by checking the customer reviews on our website.
We offer a result-driven ethos and highly dedicated to our work with high quality standard. Our high school document translators make sure that the translation completed with the utmost professionalism, is precise, and has no errors so it will accept by the college.