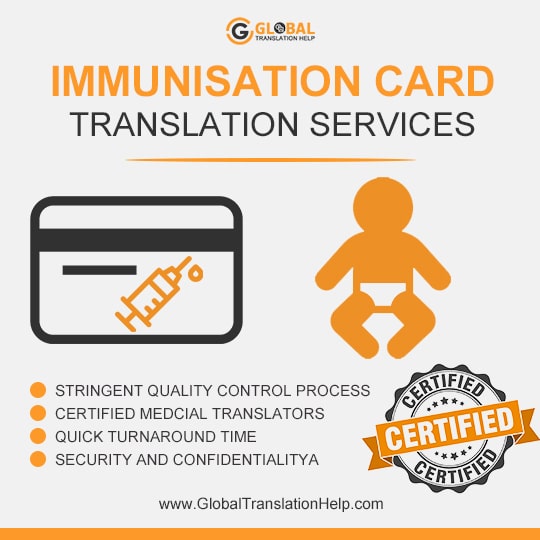 100% MANUAL IMMUNIZATION CARD TRANSLATION FROM MEDICAL EXPERTS
In case you need to translate your immunization card and have no idea where to go, this is your ultimate solution. Although there are plenty of ways to get online Immunization Card Translation Services, there are a few methods you should avoid completely. For instance, don't log in to the internet and expect Google to translate your immunization document for you.
That is to say, Google translator not only translates from word to word, you will also lose the authenticity. Moreover when it comes to vaccination record translations, the machine won't be able to help you much anyway. The reason being that google won't be able to translate your technical document accurately. Therefore, our team offers 100% human translations to handle the complexities of official records.
One may need translation of immunization card when applying for immigration. It works as a proof have received up-to vaccinations and states the medical status that is essential while immigration. These immunization records verify your medical history and therefore accurate translation is very necessary. Our immunization card translators are fully knowledgeable on the abbreviations and acronyms for every vaccine. Further, we have the expertise to speedily and precisely translate your immunization record, so that your application is cleared.
---
CERTIFIED TRANSLATION OF IMMUNIZATION CARD
The USCIS have a number of requirements before granting you immigration. Most people either hire an independent translator or an agency to help them get through the process. But even then, there are a few things that they will have to take care of their own in order to move abroad.
One of the best ways to prepare yourself for the process is to get all the translations beforehand. That is to say, getting immigration document translations before time will remove any kind of delay. The USCIS immunization requirement clearly states that you must submit its certified translation if it is not in English. Therefore, you should get from a reliable agency for translating your immunization reports.
Our Certified vaccination record translators have successfully translated thousands of Immunization Card. No matter which medical document translation you need, we will do it for you. Global Translation Help is your most excellent bet for a precise translation on time and affordable. We offer our clients with a professional Certified Immunization document Translation which guarantees acceptance by any legal body or ICA.
VACCINATION RECORD TRANSLATION FOR 200+ LANGUAGES
When it comes to immigration application and visa approval, the ICA has to check the details of applicants to verify their identity. Therefore, it is necessary to verify one's medical records to take precautions against it. Sometimes, people can also be ignorant about the diseases they can cause, which is why vaccination records are checked. However, it is not possible without immunization translation.
Countries have to keep their citizens safe by all means. In order to make sure their citizens are safe, they have to check the vaccination details of foreigners who come to their country. But every country has its own official language in which we need to translate the immunization record. So, some of the many languages in which we translate are:
| | | | |
| --- | --- | --- | --- |
| Armenian | Arabic | Czech | Dutch |
| Korean | Lao | Kurdish | Latin |
| Russian | Polish | Greek | Persian |
| Malay | Estonian | Korean | Japanese |
If your country's main dialect is Malay, then all of your documents from your birth certificate to vaccination record will be in Malay too. Hire immunization card translating experts who can translate all your documents into 200+ languages.
---
PROFESSIONAL IMMUNIZATION CARD TRANSLATION SERVICES
We offer professional translation agency with a huge devoted team of extremely qualified language translators. These expert translation possess high qualification with an extensive array of medical sectors. Our Immunization record translators are proficient with technical and dialect skills. We can even provide you the immunization card translation with certification.
If you have been asked to provide someone from another country with an immunization card, it will need to be translated into their official language. Moreover, one may need to certify or notarize the vaccine card translation before submitting it to USCIS. We not only have native translators who have language proficiency but also have got Ph.D. & MD in medical fields. They are capable of localization of documents by adapting it to the neighboring cultural norms of the target language. They are effortlessly able to process your health care translation and medical translation necessities within a short period. So, pay to get premium immunization card translation at cheap prices.