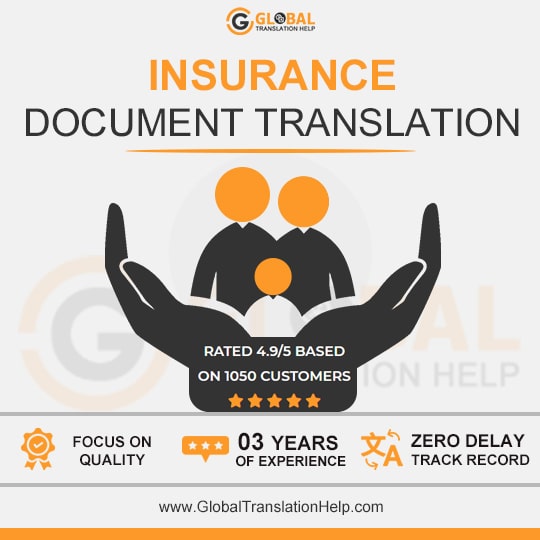 HIGH QUALITY INSURANCE CLAIM DOCUMENT TRANSLATIONS
Insurance documentation is often complex and very detailed. Therefore, Insurance Claim document translations cannot be provided by linguists who are inexperienced or lack the specialist knowledge required. Therefore, Global Translation Help presents the best Insurance Claim Document Translations for people from all over the world. All the legal authorities will accept the insurance document translations presented by our native translating experts.
Moreover, we offer translations in 200+ languages for our insurance and legal translation services that too within 24 hours. We translate and certify insurance policies, no claims certificates and more. However, our expert linguists for insurance documents are also in demand to translate documents relating to insurance claims. For instance, Insurance contracts, terms and conditions and documents relating to claims and underwriting. Each type of translation is different and requires our linguists to have slightly different skill sets.
Above all, our insurance translation service will get you apostille as well as notary insurance claim document translation help if you need. However, a knowledgeable insurance translator can speed up the procedure. Moreover, we only aim at delivering highest quality document translations at cheapest price.
---
TRANSLATION OF INSURANCE CLAIM DOCUMENTS BY EXPERT TRANSLATORS
Our team of translators consists of highly qualified and creative professionals who can work in unison to produce well-written, accurate translations. Insurance translations could be difficult, for it covers extensive and important areas in the translation field such as lawful, financial and commercial content. Also, translation of insurance claim documents generally include some important industries that require effectual technical translation of specialized terminology & vocabulary.
Our skilled and experienced professional linguists are trusted to provide expert, reliable translation of any insurance-related documentation by clients large and small. So, some of the many documents for insurance claim translations are:
Engineering report
Annual report
Insurance marketing
Reinsurance treaty
Pension plan
Accident and health & safety reports
Accident reconstruction reports
Contractual documents
Claim Documents etc.
You can therefore get translation for any legal document into any language you want. Moreover, our translators have a vast wealth of experience regarding the translation of detailed policy documents. In addition, they provide an exemplary service for in-person uses such as witness appointments and meetings between policyholders and claimants. This is especially beneficial if you need to have a range of different documents translated and then written into two (or more) languages.
200+ LANGUAGE TRANSLATIONS FOR ALL YOUR INSURANCE DOCUMENTS
If you want accurate document translation services, software or websites translations, Global Translation Help should be your first and only port of call. We are a professional language translation provider and we can provide accurate and fast translation for every business. Moreover, we offer the very best and only a high standard translation and every single text or document we are asked to translate.
However, machine translations can be quick and cheap, nothing can match the quality of insurance translations provided by or experts. Hire native bilingual translators for translating insurance claim documents with accuracy and clarity. Major languages in which we offer our language translations are:
| | | | |
| --- | --- | --- | --- |
| Chinese | Arabic | Japanese | Russian |
| Indonesian | Malay | Thai | Estonian |
| Hindi | Burmese | Croatia | Persian |
| Tagalog | Punjabi | Korean | Cambodian |
Moreover, our linguists are skilled in translating documentation from, and into, local languages for insurance claims. For instance documents ranging from road accidents, clinical negligence, employers' liability and public liability claims through to product liability claims. Therefore, we will translate your documentation precisely and accurately. That is to say, our linguists are also industry experts the translation will mean exactly the same in the translated language as it does in the original.
---
ATA CERTIFIED INSURANCE CLAIM DOCUMENT TRANSLATIONS
Insurance Document Translation Services are among our highest ordered services. Therefore, our professionals are capable of translating insurance documents precisely through the use of their own proficiency and expertise. Once you place an order, we will assign your project with an expert native speaker with the aim of reaching all your translation requirements. Our experts also specializes in the translation of other document kinds such as business plans, resumes, credentials, and income statements. Therefore, no matter which industry document you want translate to what language, we will do it for you.
We put in all our efforts to make sure that the translations we provide are high quality and are able to meet the tough requirements of the insurance industry. Therefore, all our linguists have up-to-date insurance industry experience in order for them to undertake the complex and technical translations that our customers require. Don't worry, we have got it covered for you. Contact us for any and every document or language translation at affordable rates.