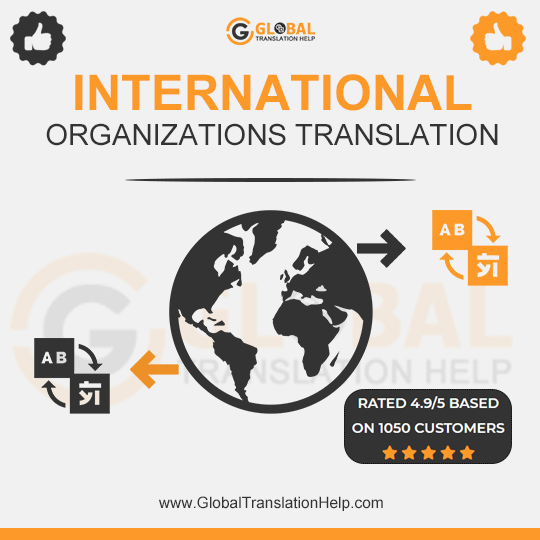 OUTSTANDING INTERNATIONAL ORGANISATION TRANSLATION SERVICES
International organizations are especially concerned with the quality of their translations. Therefore, Global Translation Help has offers the best and first class international organization translation services. Moreover, we customize it for each organization we work with, which we update and correct on a regular basis. Our native translators have a deep understanding of all subjects relating to international organizations. Therefore, can promptly respond to our clients' orders while guaranteeing high-quality standards.
Our extremely trained business translators are here to remove any kind of language barrier between two international parties. For instance, we can provide you any type of translation for any sector, be it legal, academic, medical or even technical translations. We are also capable in providing you with scientific translation services at a very cheap cost.
To help our international clients, we customized translation for international organizations. The global firms we work with span multiple continents, industries and languages. However, no matter where they are, we draw them towards us by two factors: our accuracy and our low costs. Whether it's a simple translation project or an ongoing campaign, we can respond to your needs rapidly and efficiently. Moreover, we maintain the high quality that is our USP. Just contact us to take care of repetitive or complex translation tasks of translating documents for international organizations.
---
INTERNATIONAL BUSINESS ORGANIZATION TRANSLATION HELP FROM CERTIFIED TRANSLATORS
Providing translation services to international organizations is challenging with regard to quality and turnaround time. Therefore, making it important to hire the most reliable and qualified translators. However, they work in different fields of specialization, such as finance, legal, and scientific translation. Further, pay to get any type of translation help be it dissertation translation or website translation, we will do it.
We rely on a network of professional trusted translators specializing in all fields. Moreover, each of them have vast professional experience working with international organizations. therefore, have deep knowledge of international firm translation needs and work methodologies. So, different types of translation services we offer to our international clients are:
Technical Translation
Legal Translation
Medical Translation
Marketing Translation
Financial Translation
Scientific Translation
Academic Translation
Language Translation etc.
CERTIFIED INTERNATIONAL ORGANIZATION TRANSLATION FOR 200+ LANGUAGES
Client satisfaction is our major concern. We take the most care of our customers expert translators who stick to specialized standards. However, due to the fast development of the language industry as a whole, quality standards of language services are varying as well. Therefore, we set up ourselves as distinguished members of the worldwide language industry. Moreover, we are proud members of different translation associations that concentrate in linguistics.
Further, all texts are translated by professional translators whose native language matches the target language. Our employ the most appropriate and qualified translators and proofreaders based on your requirements. For instance, some of the language translations we provide are
| | | | |
| --- | --- | --- | --- |
| Khmer | Arabic | British | Bhutanese |
| Korean | Latin | Spanish | Chinese |
| Hindi | Bengali | Greek | Persian |
| Malay | Punjabi | Indonesian | Japanese |
So just tell us your industry, desired languages and the nature of your translation document. We'll assign the project to the team best suited for the job.
---
WHY CHOOSE GLOBAL TRANSLATION HELP SERVICES?
We specialize in providing business translation services for all types of documents and websites
We ensure that all your documents remain confidential at all times.
Our customer support team provides 24/7 assistance for international organization translation service.
We start working as soon as you accept our price quote and make the payment.
Moreover, we have a huge team of 75+ professional language translators for all types of translations
We provide human translators for contract translation and agreement translation.
We offer contract translation services and agreement translation services in more than 200 languages.
in addition to translations, we also offer editing and proofreading services to ensure accuracy.