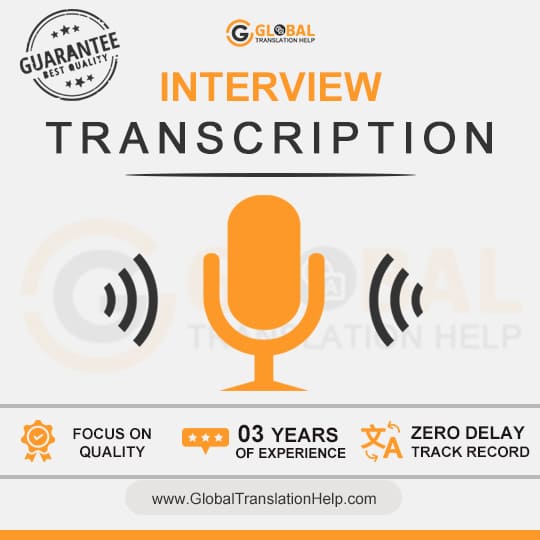 PROFESSIONAL INTERVIEW TRANSCRIPTION SERVICES
Do you want high quality interview transcription services? Our team of highly professional transcribers and quality analysts have skills to decipher many international accents and dialects. Moreover, we also offer different levels of transcriptions. For instance, whether you require a verbatim transcript, or audio or video transcriptions on time.
Trust Global Translation Help to deliver error-free interview transcript quickly according to your specifications. That is to say, any recording from music, speeches, interviews are basically translated from the audio format and presented in written text for the end users.
For transcribing an interview, knowledge of that field is most important. If your hire an interview transcriber who does not have enough knowledge related to that field, then the transcription will be meaningless. Moreover, they may lose the important topics from the interview.
Our team consists of professionals from diverse disciplines, such as businessmen, lawyers, authors, journalists, students, law experts, etc. Therefore, they enable our clients to remain proficient in their respective fields by ensuring your transcripts are accurate and delivered quickly.
---
100% ACCURATE INTERVIEW TRANSCRIPTION HELP SERVICES
Audio transcription is a widespread field that can cover almost all the areas that are in need. It is a simple form where the transformation happens from any audio material to text format. Our team understands that everyone's needs are slightly different. We work hard to match the right service to each and every customer. So, if you're not quite sure who to hire for audio, video or on-site transcription services, we are your best choice. We provide the following interview transcription help:
Job Interview
Research Interview
One on one Interview
News Interview
Radio Interview
Group Discussions
Telephone Interview
Focus Group Interview etc.
We offer the most accurate interview audio and video transcription services to our global clients. Moreover, our team consists of nearly 20,000 professional transcribers, editors and proofreaders. Above all, all staff members are carefully trained and certified.
AUDIO/ VIDEO INTERVIEW TRANSCRIPTIONS FOR 200+ LANGUAGES
We have a team of certified interview transcribers at a global level. So, don't panic if you want to transcribe an interview audio or video clip into Chinese or any other language, just contact us. We have interview transcribing experts who will will maintain accuracy in any language.
Further, we are providing interview transcription services in more than 200 languages. If you have a single interview clip with two or more languages in it, we can transcribe it as well. So, some of the major languages we provide help with are:
| | | |
| --- | --- | --- |
| Bulgarian | Latin | French |
| Croatian | Italian | Chinese |
| Khmer | Danish | Burmese |
| Portuguese | Spanish | Swedish |
We have to complete countless audio or video interview transcriptions for several different industries. We have the ability to transcribe files from almost any audio file including CDs, digital files even cassettes and micro cassettes.
---
AFFORDABLE TRANSCRIPTIONS OF INTERVIEW
Interview transcription is the work of a professional because if its done incorrectly, might lead to legal repercussions. Some things should be kept in mind while getting interview transcriber services such as accuracy, language, grammatical errors, service processing time and budget.
Nothing is worse than spending money on a transcription service when the quality of transcriptions does not meet your expectations. So, buy interview transcripts from professionally trained transcribers to handle any project thrown their way. Moreover, they are the ones who stand behind our accuracy guarantee. In addition, we will also edit and proofread the interview transcripts to ensure accuracy.
On top of that, we offer many turnaround times to meet your deadlines. Our experts offer unbeatable quality services with an affordable pricing model for all our clients. So, no worries if you do not have high budget to get your project transcribed. We are the leading transcription agency where you will get interview transcription service at affordable prices.