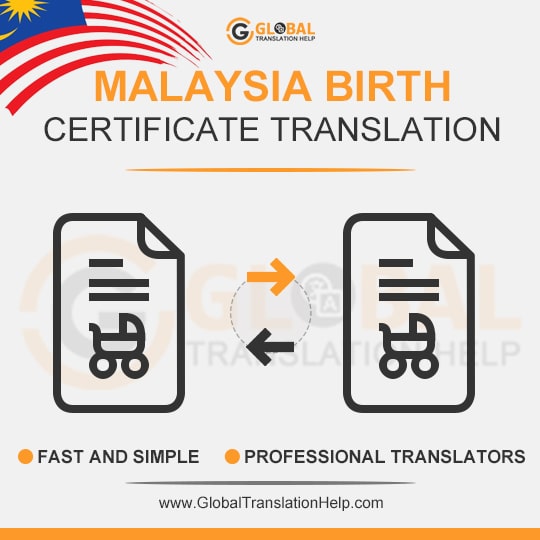 ACCURATE MALAYSIA BIRTH CERTIFICATE TRANSLATION
Birth Certificate Translations are the most requested service. Our Malaysian translators have successfully translated thousands of birth certificates. Moreover, we provide only 100% human translations for all our clients. Moreover, they are native Malay speakers also fluent in English or other languages. So, hire multilingual translators for Malaysia birth certificates.
To ensure our high standards we have a strict vetting and quality control process. So, all of our Malay translators help us to consistently deliver quality work to our clients. We provide legally certified birth certificate translations in Malaysia from expert translators. We offer all levels of translations including our standard service that is usually fine for legal purposes. But if you need a certified or notarized Malaysia birth certificate translation, we can do that too.
Our experienced birth certificate translators from Malaysia have translated many birth certificates with 100% accuracy. Our translators are hired for their native language proficiency to make sure all of your certified language translation needs are covered. We provide more than just birth certificate translation services for instance we offer legal, business or academic translations. So, for any document translation help just contact us anytime.
---
MALAYSIA BIRTH CERTIFICATE TRANSLATION FOR 200+ LANGUAGES
Our expert certificate translation services have helped many clients get fast approvals from various legal authorities. Be it a birth certificate, a marriage certificate or any other personal document, our professional team of Malaysian translators will therefore help you at every step and ensure that the translation is perfect and error free. Moreover, if you need birth certificate translation from Malay to English or any other language, you're in luck.
We have specialized Malay birth certificate translators ready to work on your translation as soon as you accept our quote. So, if you need to have your other Malay personal documents into any language, we will do it for you. We provide Malaysian Birth Certificate translation services for 200+ languages, for instance
| | | | |
| --- | --- | --- | --- |
| English | Arabic | Bengali | Bhutanese |
| Korean | Malayalam | Thai | Chinese |
| Hindi | Bengali | Greek | Persian |
| Malay | Punjabi | Korean | Japanese |
Malaysia's birth certificate translation is frequently necessary for government associated activities. Therefore when getting a birth certificate translated, you require understanding what it will be used for. So, don't waste your cash getting a translation that is not certified, when you need a certified translation.
CERTIFIED BIRTH CERTIFICATE TRANSLATIONS IN MALAYSIA
We provide all ATA certified translations for birth certificates or other documents. Our certification also specifies that the translator has no relation, personal or otherwise, to the owner of the document. Moreover, when needed we can verify the certification notarized to authenticate the identity of the authorized translator.
We are familiar with the format of certificate translation, which makes us the best choice for clients. In addition, we provide our standard certification, which will be accepted in any immigration case or other identification purpose. We promise that the translation is accurate and done to the best knowledge of the translator. If you need to translate a birth certificate we should be your only stop. Our multilingual document translators from Malaysia have high language proficiency and skills to present accurate and authentic translations for Malaysian Embassy as well.
We promise that no legal authority will ever reject you if your get you document translations done from us. Moreover, our translators respect and aim at customer satisfaction and will never fail you. It is strictly ensured that the true copy will be translated in the same format and style as that of the original one. If you want help with birth certificate translation right away just email us the scanned copy of your certificate and we will deliver your translation in 24 hours.
---
FAST AND AFFORDABLE BIRTH CERTIFICATE TRANSLATIONS
Global Translation Help is among the largest providers of certified translations in this industry. We have been delivering birth certificate translations for years. It would be a great pleasure for us to be of assistance in your immigration or any other purpose with our birth certificate translation services and you can be sure that your translation will be done in time and won't cost a fortune.
The use of birth certificates is to verify the identity are a very important document and is often attach it to many applications. Therefore, we understand how crucial it is and will ensure that you receive a perfect translation of your Malaysia birth certificate. Most importantly, we promise to present you with error free and accurate translations at cheapest rates. The main aim of our agency is customer satisfaction and we succeed at doing so by providing high quality and affordable online translations. So no matter where you reside, you can be assured that you will get the highest standards and best quality of translation services.