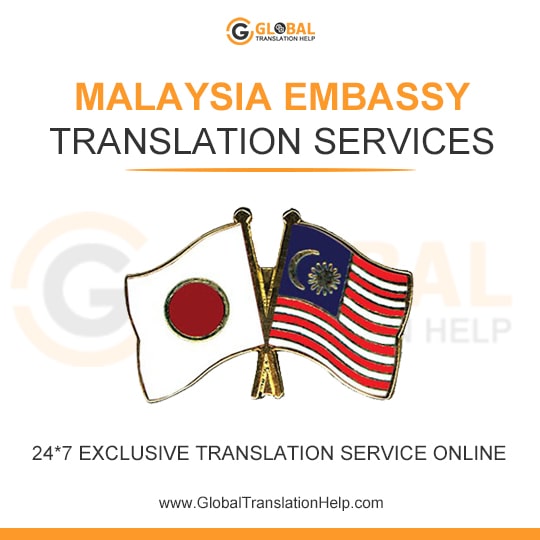 HIGH QUALITY MALAYSIA EMBASSY TRANSLATION SERVICES
Global Translation Help has topped the list of the best translation agency in this industry. So, if you're an immigration applicant and and need Malaysia Embassy Translation Services, just contact us. If you want to visit China and are citizen of Malaysia, you will most probably need a Chinese visa. For instance, a Malaysian resident comes to China for business, academic or personal purpose it is important to take Malaysia embassy Chinese translation service. Therefore, hire qualified Malaysia embassy translators for translation help offered by us at cheap price. Moreover, the Malaysia embassy helps every possible way for smooth immigration.
While applying for a visa you usually have to attach many documents such as personal, financial or education certificates. If any of these documents are in Malaysian language, then you will most probably need a translated version of that document. Moreover, the documents translated for Malaysia embassy or USCIS have to be translated accurately. We provide excellent Malaysian translation services for Visa related documents. At our agency, we take pride in the fact that we deliver all sorts of services with responsibility and concern. Moreover, we ensure that we make that part easier for you where we have to work upon your documents. So, remove all your USCIS stress with just ordering our Malaysia embassy translation help.
---
IMMIGRATION DOCUMENTS TRANSLATION FOR MALAYSIAN EMBASSY
We translate from Malaysian into every major language of the world and vice versa. Our proficient USCIS certified translators for immigration will translate and certify any document. Moreover, will provide you with instructions and guidance about the translation during an immigration interview. For instance, we provide certified translation for the immigrants, which is exactly what they need to submit to USCIS, like a birth certificate, legal documents, court orders, or other documents needed for immigration translation by Malaysian Embassy.
Malaysia Certificate Attestation is an act of validating the documents by an authority stating the certificates and genuine. There are varieties of documents which may require Attestation by the Consulate General of Malaysia which are:
Valid travel document
Translation of Financial documents showing that you have sufficient funds available.
Translations for State Education Department Attestation from concerned state
Confirmation of legal residence
Attestation from Ministry of External Affairs (MEA) Translation
Attestation from the High Commission of Malaysia Translations
Translation of Bonafide Certificates
Government Approval Letters Translations etc.
Moreover, as we know that the Malaysia embassy does not do the translation. Instead, they can advise you about getting the best translation services from some translation agency. If you desire to have Malaysian to English translation services as said by the Malaysia embassy, order document translations for any Malaysian embassy document translations you need.
---
AFFORDABLE MALAYSIAN EMBASSY TRANSLATION SERVICES
You will get top rated authentic and genuine document Malaysian Embassy translation which very much trusted by lots of customers. This is because our translated documents are flawless and do not have any errors. Malaysia shares a border with Vietnam, Thailand, Singapore, and Indonesia while East Malaysia borders Brunei, Indonesia, and Philippines. Therefore, mostly people seek for help with Malaysian Embassy document translations. The certified Malaysian Embassy translators at Globaltranslationhelp.com provide document translation in more than 200 languages including the Malaysian language into the English language.
Our expert Malaysian translators also provide certification and notary services for immigration documents. There are many supportive documents that have to be provided along with your Visa application. Some documents are compulsory while others are not. We promise to present you with the best Malaysian Translation services for Embassy from native translating experts at cheap price. So, wait no more to order language translations for Malaysia Embassy documents at budget.