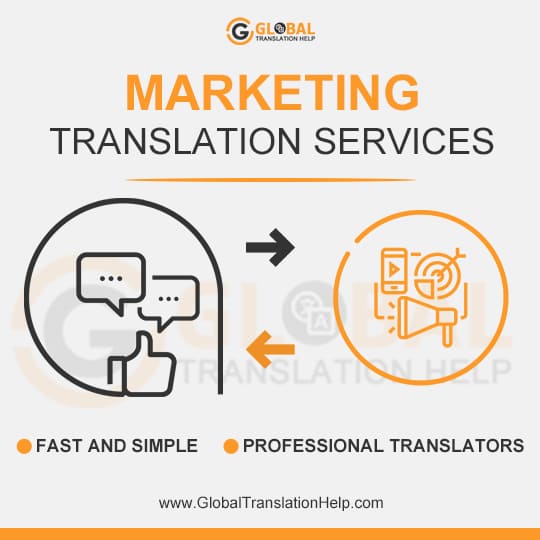 MARKETING TRANSLATION SERVICES
The translations of the marketing industry differ variably with the medical, legal or personal translations of the respective departments. Therefore, we have a whole team dedicated to the purpose of the marketing plan for translation services. Moreover, our marketing translators are working around the clock to provide the best, fastest service. So, we promise to serve you with the best Marketing Translation Services from proficient translators at cheap price.
---
AUTHENTIC TRANSLATION SERVICES FOR MARKETING DOCUMENTS
Professional and accurate marketing translation service involves not only conversion of the language itself, but also takes into account the cultural nuances. Translation of marketing documents must involve a complete recreation of the entire content (transcreation). Therefore the linguist translating your marketing document must not only be a native speaker of your target language. They must also understand how the target market works, what can influence the consumer behavior and what will allow your brand to be relevant within your chosen market.
We aim for translators who have command on the content they create, that it is useful in interacting the customer. Above all, all the translated marketing documents that we deliver are fully accurate, authentic and error-free. Our professional marketing translation help cover
Company Brochures
PPC Campaigns
Blog Posts
Corporate Websites
Website Translation
Financial Reports
Newsletters etc.
Our agency works with over 75+ professional linguists who cover more than 200 languages from every corner of the world. Further, a dedicated marketing translating expert will be assigned for your translation. After that, ensuring all of your questions are answered and that you stay up-to-date with the progress of your marketing document translation, making the entire translation process as convenient and straightforward as possible.
HIRE EXPERT LINGUISTS FOR YOUR BUSINESS MARKETING TRANSLATIONS
We have a whole team trained and qualified for translation of marketing documents. We therefore have a group of researchers who are dedicated to the cause of exploring the content in the target language such that ideal facts and figures and the right from of humor, attractiveness and experience can be put in to help your product reach the targeted audience. Pay to get the marketing analysts translation services from bilingual translators who have rich vocabulary and creative skills. Therefore, we regularly carry out multilingual transcreation projects for marketing agencies. So that we ensure that we handpick the most creative and culturally aware native linguists for these projects. Some of the highly ordered languages are:
| | | |
| --- | --- | --- |
| Bulgarian | Burmese | French |
| Croatian | Italian | Cambodian |
| Irish | Danish | English |
| Portuguese | Spanish | Swedish |
We provide professional marketing document translation services in over 200 languages and in hundreds of language combinations. For instance, be it Spanish to English translation, Chinese to Dutch translation, or vice- versa, we'd do it for you. Therefore, we can help you get your message out to your international customers in their own language-in every locality in which you are doing business.
---
ERROR FREE & AFFORDABLE MARKETING TRANSLATIONS
The translation of marketing documents requires linguistic skills as well as business knowledge. Therefore, we have employed professional translators in marketing who have extensive experience in marketing and advertising translations. Moreover, we are proud to say that we are among the best translation services agency in this industry. Customer satisfaction is our main aim so we promise to serve you with the most accurate and error free certified marketing document.
Marketing translation is quite a broad field of work. Branding and advertising translation is often quite different to website translation, even though they may both be marketing focused. Therefore, we select the most appropriate translators for the individual assignment. We have the best rates for any kind of marketing translation that you need. We can help you attain a quality translation in the cheapest rates at your doorstep and that too, without the involvement of any hidden charges or rush rates in the case on an urgent request. You reach out to us at our office or via email or on our website and we will reach back to you with a translation solution.