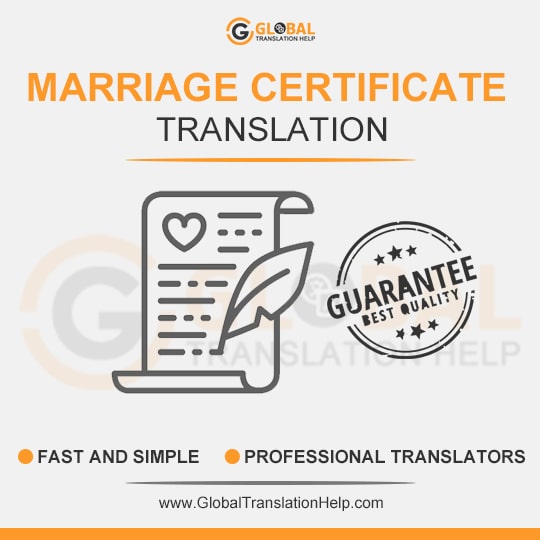 EXCLUSIVE MARRIAGE CERTIFICATE TRANSLATION SERVICES
Do i need to translate my marriage certificate? Yes, you may need marriage certificate translation for different purposes. For instance, for immigration (USCIS) and possible for travel. Moreover, for citizenship purposes most of the embassies require translation of marriage certificates. If you are planning to move abroad you may need marriage document translation. Therefore, avail the best and premium wedding certificate translations from Global Translation Help at cheap prices.
We employ dexterous and skilled translators having years of experience in the translation of non-English documents. Moreover. most of the immigration applicants are required to submit a certified translation of their marriage certificates along with other documents. We guarantee the accuracy and originality of our translations and you can get affordable and reliable services at lower rates.
Translating marriage certificates is a necessary step to getting local citizenship for you and your relatives. However, our Marriage Certificate Translation Services cover over 200 languages, making us a top provider of language or Document Translation services. No matter if you're moving abroad before or after marriage, we will translate your documents for immigration, Our marriage certificate translation services will ensure to offer you with a marriage certificate in English or in any language you want.
---
75+ MULTILINGUAL TRANSLATORS FOR ALL YOUR DOCUMENT TRANSLATIONS
We have a live connection with over 75 professional language translators which allows us to translate marriage certificates or any other documents from/ to over 200 languages fast and accurately. Moreover, we ensure to adhere and abide by the highest standards of quality. Most importantly, we are also members of the ATA. Therefore, with us, you only get highest quality translations at the most affordable rates!
We promise that our help with marriage certificate translations will efficiently adopt your papers from or into any language. Further, keeping the innovative look of the marriage certificate and legitimately certify the paper, ensuring that it is accepted and recognized by authorities.
Our experienced panel of marriage certificate translators has therefore translated many documents from English into various languages and vice versa. For instance, here are some of the major languages we provide help with are :
| | | | |
| --- | --- | --- | --- |
| Estonian | English | Burmese | Bhutanese |
| Croatian | Malay | Thai | Chinese |
| Indonesian | Tagalog | Greek | Persian |
| Cambodian | Punjabi | Korean | Japanese |
CERTIFIED MARRIAGE CERTIFICATE TRANSLATIONS FOR USCIS
Translations of official documents such as divorce certificates, insurance papers and medical records requires a high level of accuracy and proficiency. Moreover, they are supposed to be attached along with other legal documents to proceed with your case, a small error can lead to rejections. Therefore, certified marriage certificate translation support is required when forwarding your documents to USCIS for which choosing a reliable translation agency is beneficial.
We offer a completely customized and error free translations for our clients. Moreover, we understand the importance of translating personal documents such as marriage certificates. Further, our adept translators of certificates will consider each and every aspect of your requirements and will deliver high quality translation with 100% accuracy. As a legally accredited and professional translation company, we are trusted by our many individual and corporate clients.
---
ORDER NOW! ACCURATE MARRIAGE CERTIFICATE TRANSLATION AT BUDGET
Our certified wedding certificate translation is of the highest quality even though our prices are low. We are well aware of the requirements and we make sure to follow the guidelines and requirements stated by you. That is why we guarantee that our translations will be accepted by all the legal authorities.
Accuracy and clarity of the certificate is the most important thing while translating a document. Unclear documents can be troublesome for the translators and an error might arise which in turn will lead to the rejection and delay. So it's better to check your document, take a high quality picture and send it to us.
As for our rates are concerned, we charge the lowest prices in this industry. We know that most of the translation agencies out there are fleecing the clients with their ultra-high rates. But at Global Translation Help, we have set the most affordable rates for our potential clients while not compromising on quality. So, for any and every language or document translations, just approach us.