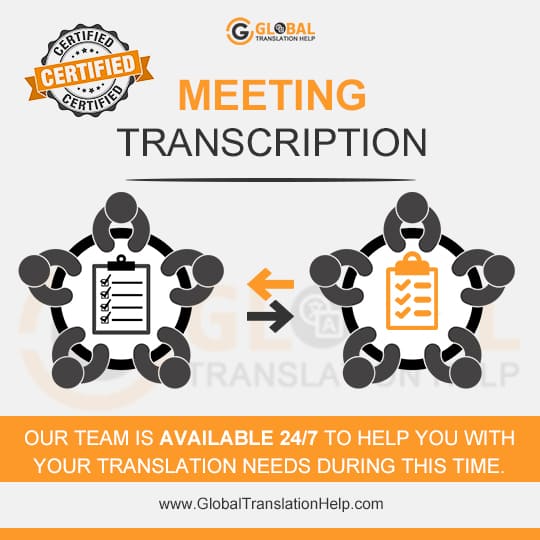 EXCLUSIVE & AUTHENTIC MEETING TRANSCRIPTION SERVICES
Have you ever sat in a meeting and aren't quite sure what they are talking about as you're not fluent with the language? Or do you completely forget what was said 5 minutes ago? Maybe because you're trying to keep track of your endless to-do list. Research tells us that the average person only retains 5% of the discussion from a meeting. Therefore, to understand everything that was said in the meeting and keep it for future reference, take meeting transcription services.
Global Translation Help has the experience and expertise to create a meeting transcription audio into text format for easy referencing. Most of our international clients use our meeting transcription help for meeting reviews, clarification, and follow ups. Moreover, the meeting transcribers in our team are highly qualified and here to help you every step of the way.
Meetings are an integral part of every business. Therefore, it is crucial to record the meeting and transcribe it for future reference, achieving goals and maximum efficiency. It is very important to keep record of each and every word that is spoken.
Our experts allow you to make more efficient use of the personnel you have for a minimal investment. In addition, we provide fast turnaround time on spoken documents while assuring accuracy and authenticity.
---
MINUTES OF MEETING TRANSCRIPTION SERVICES
Global Translation Help experts cover a wide range of industry sectors and services. We are different for the other agencies as we provide expert transcribers for each area. That is to say, that we appoint your meeting transcribing work to people with first hand knowledge of the industry. Therefore, we provide a transcription service for meeting that is accurate, confidential, secure and professional.
There are different types of business meetings held in an organization. Different types f meeting transcriptions we provide are for:
Meetings for updating status
Meetings for information sharing
Strategy planning meetings
Decision making meetings
Meetings for problem-solving
Inter organizational meetings
Meetings for team building
Performance meetings etc.
To make your company efficient globally, we provide transcriptions in more than 200 languages. In addition we also offer interview transcriptions for businesses as well. Moreover, our minutes of meeting's transcribers take personal interest in your projects and help you achieve great results.
PROFESSIONAL MEETING TRANSCRIPTION HELP AT AFFORDABLE RATES
We promise to meet all of the needs to give perfect transcription solution for our clients. Moreover, our cost differs, depending on the length, quality, language of the audio and video files and the turnaround time. We are best known for speedy response and provide value for money. Further, to assure confidentiality and accuracy, we will sign non-disclosure agreements.
It's not just languages where transcribers need to have the expertise. In addition, they should also possess an extensive technical vocabulary in your specific field. Therefore, to provide transcription services for medical conference or research data will require transcribers to be aware of the specialist jargon or technical terms. Similarly, legal transcription or product descriptions may need expert awareness of different linguistic nuances.
Therefore, to aid all these hurdles, we offer the best transcribing help for meetings. We have a team of transcribers with high qualification, skills and multilingual talents. They are familiar and experience in live transcriptions therefore delivering accurate transcripts with no grammatical and spelling errors.
---
WHY CHOOSE GLOBAL TRANSLATION HELP?
There may be a lot of agencies offering transcription of meetings services in this industry. However, to avail the best and accurate transcription or translation, we are your best option. Order our help and you will get the following advantages:
Highly accurate transcriptions on schedule, on budget, and at any scale for a wide variety of requirements.
No hidden costs and surcharges, moreover we even go the extra mile to advise you on how to keep your costs low.
Multilingual expert transcribers from around the world. They can therefore provide the transcription services in 200+ plus languages
Client-specific service plan for a wide variety of enterprise requirements and industry needs.
On time delivery of accurate and error-free meeting transcripts
We analyze the content and perform a thorough quality check and provide you with 100% quality transcripts.