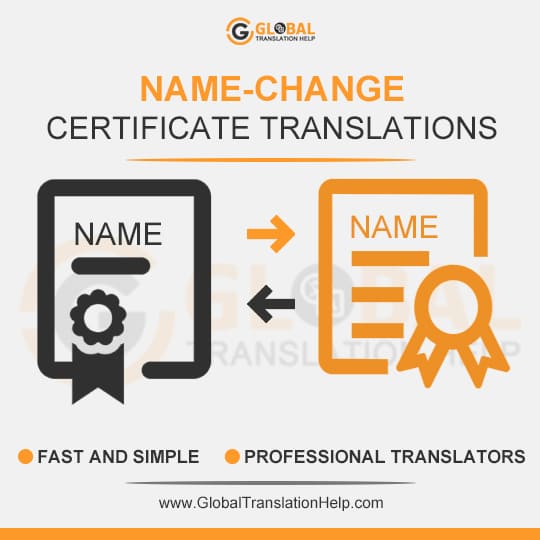 ACCURATE NAME CHANGE CERTIFICATE TRANSLATION
Did you recently change your name and need translation of the name change certificate? We will do it for you. Globaltranslationhelp.com recognizes the importance of delivering high-quality name change certificate translation to our client. Therefore, our team of legal experts perform translations of name change certificates who are knowledgeable in the field of law. Pay to get accurate and error-free Name Change document translation from our certified professional translators.
These expert translators have an deep understanding of common law and civil law legal systems used worldwide. Our legal name change certificate translators have an extensive knowledge of both legal jargon and technical terminologies. Therefore, can instantly recognize the linguistic and cultural differences in the source and target language to provide an accurate translation.
There are various translation agencies offering various types of translation services for many kinds of documents. However, name change translation services are rare to find online. We are among the most popular translation websites in this industry. Our expert translators offer accurate translation of name change certificate within the given time. So, for all certificate translations just contact us.
---
IMPORTANCE OF TRANSLATION OF NAME CHANGE CERTIFICATE
Along with other documents like, marriage certificate, driver's licence etc. USCIS also needs change of name document. That is to say, in order to verify your identity you need to prove that your name has been legally changed. Having this document translation can be critical to tying all of your documents together to ensure a smooth submission.
If you desire to obtain a visa to travel abroad you may need Name- Change certificate translation. Basically for married women who had changed or added their maiden name along with the surname of their husband. Name change certificate translation is important to apply for passport or renew it. Moreover, documents like marriage certificate or adoption applications are needed to have a name change certificate.
A NAATI-certified translation is acceptable by all government or official bodies. So, if you need it for a visa or passport application and need name change translation, just ask us. Our NAATI translators are authorized and qualified to provide a high-quality legal translation to meet any deadline.
STEPS TO GET A NAME CHANGE CERTIFICATE
One may need name-change affidavit translations for a variety of reasons. Certified translation of name-change affidavit for passport is needed as well. if you have a different name on your birth certificate and you have changed it, the name change affidavit is requested. Moreover, if your name-change certificate is in a regional language, it needs to be translated. In case you want to change your name, you may have to go through the following:
A name change request letter to the commissioner of ICA.
Submission of documents like visa, and birth certificate, affidavit of the name change, marriage certificate, and others as requested by ICA
Once they change your name officially, they will notify you about the delivery of the name change certificate.
If yo wish to apply for passport, you may need to translate the name change certificate into the target language.
We provide language translation services for more than 200 languages. Moreover, we have certified translators to translate the name change document. Our customer support team is available 24*7. Further, they have expertise over the document translation and have earned proficiency in translating various kinds of documents from one language to another.
---
ERROR-FREE NAME CHANGE CERTIFICATE TRANSLATION. ORDER NOW!
Getting your certificate translated is nothing once you get your name changes. Hire qualified legal translators or a reliable agency for accurate document translations. A translator with prior experience of handling official documents will serve you with the best translations of name change affidavits as per your needs.
Our experts not just have great language proficiency but are also legal experts. Once you hand over the certificate to them, you can sit back and relax until they deliver you the translation. These experts are very experienced in providing accurate translations from life science translations to website translation services. We promise to live up-to your expectations. No matter how lengthy or complex your document be, just ask us for ' translate my document' and we will do it. Our professional translating experts have successfully translated thousands of change of name documents. So, what ever be your translation need, we are your best bet for an error- free translation delivered quickly.