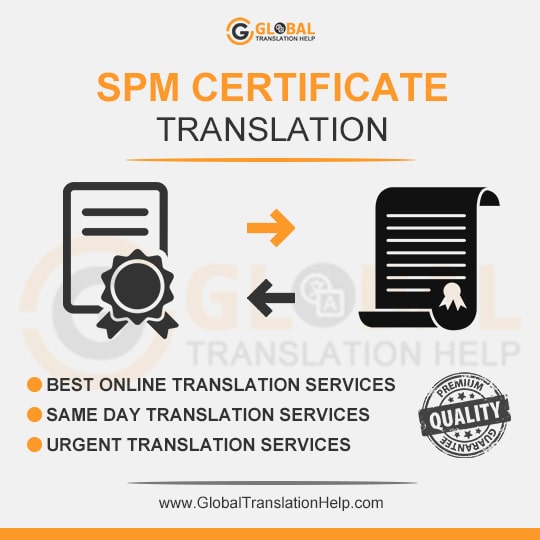 OUTSTANDING SPM CERTIFICATE TRANSLATION HELP
Global Translation Help offers top-notch quality of Spm certificate translation through educational manuscript formatting, styling, and guidelines. Our native translators therefore commit to offer high quality Sijil Pelajaran Malaysia translation services with loyalty and excellence. Moreover, we have a highly skilled linguists who provides us reliable translations perfect for everybody in the educational profession.
All the fifth-form secondary school students in Malaysia take the Spm exam for Malaysian Certificate of Education. Every school or university across the world has their own specific requirements for the information needed to process an application. Therefore, to get through the application process of any college you want to attend is going to require translation of your academic documents into the target language.
We have a huge team of proficient Spm certificate translators who can translate any academic certificate translation as you need. Moreover, they own various certifications by various universities along with the ATA certification. With our skilled translators who possess great expertise and experience in the industry, we assure accurate results at all times. We hire highly qualified translators for Spm certificate to make sure that we only have the best on our team.
---
TRANSLATION OF SPM CERTIFICATE FOR 200+ LANGUAGES
Education translation such as SPM Certificate Translation is a complex and uncommon translation – especially because of the technical terms. Taking paid services from someone who is not fluent in more than one language to handle the translation can lead to a number of problems. Therefore, hire professional individual or agency that has a great deal of experience with the academic discipline in question.
Moreover, the educational institute in abroad has a specific requirement to process application or transfer. Therefore, you need to translate the Spm certificate into the native language of the college you're applying for. So, if you have a certificate of SPM translation program, then it will be easy for you get the document translation and easily get through the application process. Some of the highly ordered languages are :
| | | | |
| --- | --- | --- | --- |
| English | Philippines | Nepali | French |
| Korean | German | Turkish | Chinese |
| Polish | Bengali | Greek | Persian |
| Ukrainian | Punjabi | Vietnamese | Japanese |
CERTIFIED SPM DOCUMENT TRANSLATIONS
In order to apply into a foreign college, you will have to get your certificate of Spm translated. Further, guidelines set forth by colleges states that you cannot translate the documents and information on your own. However, you will have it done by some professional translator who is fluent in both languages. Therefore, colleges will require the documents to be certified by a professional translation company. So, to end your educational translation stress, we are at your services.
Most importantly, SPM certificate may include (not necessarisly)-
Notary Certificates showing the completion of secondary education
Certificates of Degrees or Diplomas
LoR (Letter of Recommendation)
Academic Transcripts or educational documents
So, we provide translation for documents academics or any other document. For instance, legal, medical, technical or any other document. Our expert translators will therefore work to give a clear-cut translation of your document while maintaining the integrity of the source content and ensuring that your document is accurately and professionally translated.
---
HIGH- QUALITY SPM CERTIFICATE TRANSLATION AT BUDGET
As an ISO certified translation agency, we provide premium translation of Sijil Pelajaran Malaysia certificate to scholars from all over the world. Moreover, we cater academic document translations for students, researchers, scholars and other education-related institutions. Our good online customer reviews testifies our excellence and speed in serving happy clients around the world. We ensure to fulfill our clients' expectations and all requirements are met at all time.
If you get online SPM translation from our professional translators then you can be assured of its quality and authenticity. Moreover, if you are unable to find a local document translator and lack the skills of SPM translation then it is best to hire translators online who can offer document translation services. Moreover, you will get the qualified translators to translate your SPM documents at cheap prices.
Above all pay to get fast, high quality, affordable spm certificate translation support that will resolve a complete range of potential issues with your document. All translations, editing and proofreading is done manually. So, ask us for 'Translate my documents' and sit back and relax!
Order best & Professional Cambodian Translation services at cheap prices. Hire ATA Certified Translators from Cambodia for translating all you documents.
Global Translation Help offers the most reliable and highest quality Cambodian Translation services at cheap prices. We have a huge panel of native translators from Cambodia who have years of experience. Pay to get translations for Cambodian documents from ATA certified Cambodian translators in budget.