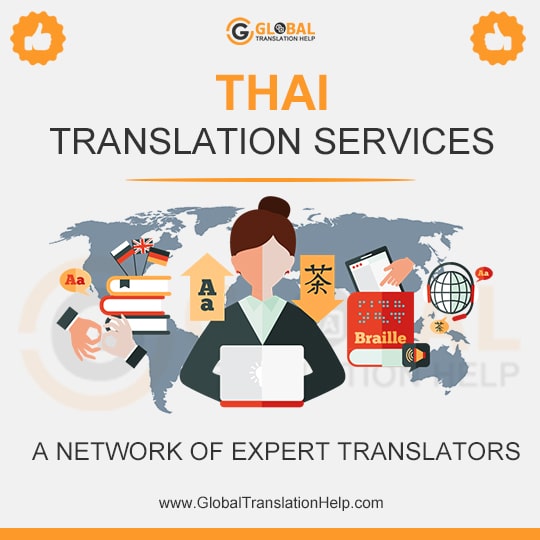 BRILLIANT THAI TRANSLATION SERVICES BY EXPERTS
Are you in need of Thai document translation services? Stress no more, we are here for your aid. Buy exclusive Thai Translation Services from expert Thailand translators. We assign Thai language translation teams with appropriate industry skills and knowledge for each translation project. Therefore, it also assists with fast translation turnaround and translation accuracy.
Moreover, we are committed to providing the best Thai translation help for all our clients. That is to say, we only work with native speakers to ensure high-quality translations that can be easily understood by all audiences. Most importantly, our translators from Thailand have knowledge and experience working in a variety of industries, providing the most accurate translations on the market. For instance, legal, medical, technical, scientific and many other areas. Just name the document you want, we will translate it to/from Thai in any language.
Whether your Thai translation assignment is rather lengthy and technical or more basic in style, we can help you. Therefore, we have the right team of experienced Thai translators on hand to deliver, with expertise in a number of areas or languages. Our clients usually revisits us because of the best exquisite translations for Thai documents that we provide.
---
THAI TRANSLATION SERVICES FOR LEGAL DOCUMENTS
We have a huge panel of Thailand translators who have great knowledge about the language and its grammatical structure. They therefore can phrase copy in order for it to make perfect sense without losing its integrity. Moreover, they can use their background knowledge to ensure the relevant industry keywords are used for every translation. This ensures a high quality translations with reduced chances of miscommunication, which can negatively impact your business.
We are great in making sure that the translations are as per the judiciary or legal system that they are going to be presented to. Moreover, we know what kind of legal translations they have in mind and we know how to deliver them. We have been working in legal translation business for the Thai language for a considerable amount of time with an ever-growing list of clients. Therefore, to save you from all these troubles, our Thai translation experts are here to serve you with the best legal Thai document translations. Some of the major legal documents for Thai translations are:
Affidavits
Contacts
Police Clearance
Adoption Translations
Letters to Credit
Will Translations
Witness Statement etc.
In addition to legal documents, Businesses looking to target the Thai market can also count on us for all their translation needs. Thai businesses looking to expand globally can also count on us to translate Thai documents, websites or software, in any language. All translations are TEP (translation, editing and proofreading) and we charge the lowest rates in the industry.
THAI TRANSLATIONS FOR ACROSS 200+ LANGUAGES
Many of the translation agencies, charge high and expensive rates and present such poor quality services. Moreover, most of the time their translations are not even accepted by the authorities. We have encountered some of the most complicated Thai translation tasks and we are proud to say that our clients love our commitment to quality and quick delivery. Moreover, we never fail to deliver them the most accurate yet affordable Thai translations.
Our Thai translating helpers are proud to offer their services to all our customers. They come to us knowing about our professionalism, top-quality Thai translations at unbeatable value for money. Our dedicated, certified Thai translators are all fully qualified and have many years of experience providing top-quality Thai to English translations or any other language. Above all, we provide help with Thai translations for all the Asian and European Union languages. For instance, Spanish, Cambodian, Malay, Tagalog, Dutch, Estonian or Indonesian. Any language you want to/ from Thai, we will accurately do it for you.
---
PROFESSIONAL THAI TRANSLATION SERVICES AT AFFORDABLE RATES
We only provide quality translations, doubled by fast delivery, which makes us one of the leading online translation companies. We bet you'll probably find us to be your best option when it comes to language translation services. Moreover, you will get quality and high standards of translation services in Thai which are quite detailed and accurate. Most of the previous customers, who have taken translation services from us before, usually revisit us for our language translations.
Whether it's translating to and from Thai, editing, or proofreading documents to ensure their accuracy, our mother tongue linguists ill get it for you. Above all, our translators are specially trained and experienced in the language to ensure that your paperwork is flawless and compliant with regulatory standards. Most importantly, working with native Thai translating specialists allows us to ensure we deliver a completely localized translation, improving the accuracy of the finished copy. So, whichever language you want to translate in, or what document you want to get translated, just contact us.