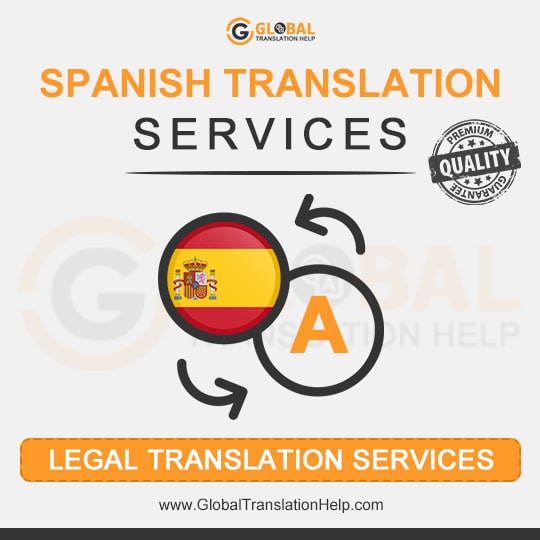 TOP QUALITY SPANISH TRANSLATION SERVICES FROM NATIVE TRANSLATORS
Are you seeking for online Spanish translation support, but don't know whom to trust? Don't panic, we got you. Singapore translators is one of the leading websites for translation services with highly certified Spanish translators. Hire trustworthy Spanish translators who provide translating services for every Spanish documents you need, like Spanish business reports translation, birth certificate translations, divorce paper translation help or even notarized passport translations from Spanish to any language you want.
One of the widely used language in the world is Spanish. There are around 483 million native Spanish speakers in the world. Spanish is the second most used language in the world, first being Chinese. However, Spanish translation services are frequently requested by customers from all over the world. Therefore, Global Translation Help is the leading translation help websites that provides professional Spanish translating help from ATA certified translators. So, take localized Spanish translations from native translators who are capable to translate the original Spanish document into any language you wish for be it Spanish to German, English to Chinese or the most important Spanish to English and vice- versa.
---
WORRIED ABOUT EXPENSIVE TRANSLATION OF SPANISH DOCUMENTS?
Don't worry, we got you. Most of the people who choose online Spanish Translation Help consider taking it either because of the time or the money issues. Moreover, most of people looking for Spanish document translations online prefer machine translations than manual translations because they are cost-effective option that can also provide the added benefit of saving time. The cheapest translation of Spanish documents is done by Google translator, which can't be argued but it should be considered that it offers word to word translation. Above all, our translating experts Translators present 100% human translations for Spanish documents. The major translation services for Spanish documents are-
Medical Translations

Legal Translations

Technical Translations

Financial Translations

Scientific Translations

Marketing Translations

Business Translations

Life Science Translations
And many more services. So, hire best Spanish translators who are offering you 24*7 translating services for every Spanish certificate you need.
ARE YOU LOOKING FOR CERTIFIED TRANSLATION OF IMMIGRATION DOCUMENT ONLINE?
We know how important translating Spanish immigration documents is when you wish to travel abroad. Firstly, our experts offer accuracy in translating Spanish documents for immigration as the notarized true copy of the immigration documents is needed to verify the passport or similar travel documents. Secondly, we help with Spanish translations for almost all kinds of documents, be it Notarized Spanish immigration documents like passport, permanent resident card or work permit or certified Spanish immigration documents like Insurance papers, birth certificate, arrival record etc. Important immigration documents in Spanish in which we offer Spanish translator services from certified experts would be
Permanent Resident Card

Reentry

Permit

Refugee Travel Document

Arrival Record

Tax Returns

Work Permit

Immigration Visa
---
BUSINESS TRANSLATIONS AND SAME DAY TRANSLATION WITH AFFORDABLE PRICE
Suppose you have a business meeting in Spain in 2 days but have no clue about Spanish language. The business PPTs prepared have to be in Spanish for them to understand but there's no time left. Calm down, we are at your service. Pay to take the best Spanish translation services online that at standard and affordable rates. Above all, the Spanish translation services rates charged by the expert Spanish translators for accurate and natural translations are very cheap that would be within your budget.
Buy document translation services for creative and skilled Spanish translating experts for deeds translations, Business report translations, contract of employees written in Spanish or any other important business document for Spanish translation and vice-versa. Moreover, we have over 75+ language professionals who are skilled bilingual translators for your Spanish documents and certificates. So, if you ever come across such situation, don't think twice and ask our certified business translators for 'translate my document' services and we promise to get back to you as soon as possible.