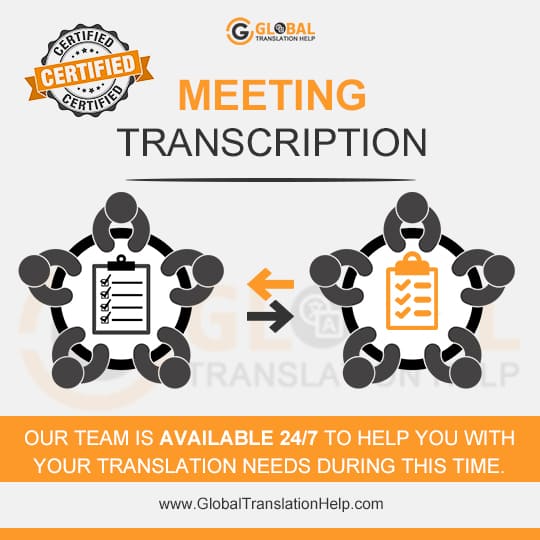 Comprehensive Meeting Transcription Services for Business
Have you ever sat in a meeting and aren't quite sure what they are talking about as you're not fluent in the language? Or do you completely forget what was said 5 minutes ago? Maybe because you're trying to keep track of your endless to-do list. Research tells us that the average person only retains 5% of the discussion from a meeting. Therefore, to understand everything that was said in the meeting and keep it for future reference, take meeting transcription services.
Global Translation Help has the experience and expertise to create a meeting transcription audio into text format for easy referencing. Most of our international clients use our meeting transcription help for meeting reviews, clarification, and follow-ups. Moreover, the meeting transcribers in our team are highly qualified and here to help you every step of the way.
Meetings are an integral part of every business. Therefore, it is crucial to record the meeting and transcribe it for future reference, achieving goals, and maximum efficiency. It is very important to keep records of every word that is spoken.
Our experts allow you to make more efficient use of the personnel you have for a minimal investment. Also, we provide fast turnaround time on spoken documents while assuring accuracy and authenticity.