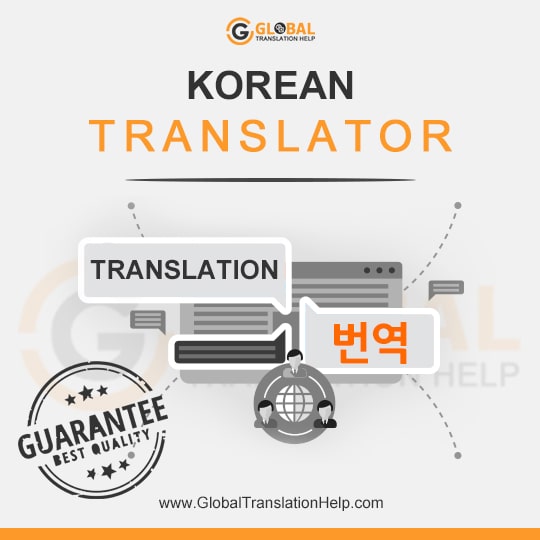 AUTHENTIC KOREAN TRANSLATION SERVICES
Do you need someone to translate your Korean documents for you? Search no more. Global Translation Help is the highest ranking translation agency that will provide Korean Translation Services to or from any language you want or vice- versa. Moreover, we make sure that our Korean translators exclusively translate texts from their respective field of specialization. Therefore, this guarantees the accurate translation of technical terminology and complex content. In addition, to ensure accuracy and rectify errors, a professional proofreader checks every translated document in detail.
Korean is an isolated language, which means that it can not be classified into any language family. Until the 19th century developed under the influence of Chinese, which greatly enriched its vocabulary. In addition, the Koreans have a long time to write Korean used Chinese characters. Among Korean language used in North and South Korea, there are some differences, but they do not exceed the level of mutual intelligibility.
Global Translation Help has a team of expert translators from Korea, both South and North, available 24*7 at your services. Moreover, we provide a full range of Korean translation help services to companies worldwide for all industries. Our native Korean linguists bring to your documents a diversified skill set to deliver an accurate and error free Korean translation.
---
KOREAN TRANSLATION HELP SERVICE BY NATIVE TRANSLATORS
Our skilled and experienced Korean translators have diverse backgrounds in a wide variety of areas. Moreover, any type of specialized text that you might be looking to have translated for to/from Korean, we will get it for you. We only hire experienced, native Korean translators for all our Korean translation assignments. They are capable of translating in a number of Korean dialects for instance Seoul, P'yŏngan, Gyeonggi, etc.
Moreover, they specialize in a number of different areas of translation to give the best possible results for our customers. The Korean experts on our universal team are committed to reaching the expectations when translating and localizing any documents. We then make sure the formatting is correct, which is particularly important for Korean, providing a final Korean translation of excellent quality.
We have a panel of translators from South Korea who have high proficiency and rich vocabulary in the language. Moreover, our North Korean translators understand the importance of authenticity and accuracy in the Korean language translations. Therefore, we promise that you won't be disappointed by the services of native Korean translator in our team.
200+ LANGUAGE TRANSLATIONS FOR KOREAN DOCUMENTS
As an universal translation company, we operate as a worldwide service provider of translation in over 200 languages. To clarify, we have the know-how and the expertise to provide any and every language translation service you need. Major language translations from/ to which we can translate you Korean document:
| | | | |
| --- | --- | --- | --- |
| English | Arabic | Burmese | Dutch |
| Portuguese | Estonian | Russian | Chinese |
| Hindi | Bengali | Greek | Thai |
| Malay | Punjabi | Korean | Japanese |
Our professional translation help for these languages is available to you around the clock. Moreover, we accept orders even during weekends and at night. Our expedited service ensures that your instant translation of business letters or emails is finished on time. Take advantage of our project management software to simplify the ordering procedure even further.
---
EXCLUSIVE KOREAN DOCUMENTATION TRANSLATION SERVICES
Global Translation Help provides an impeccable Korean Translator services for all sort of personal and professional requirements. Above all, you can assure about receiving the perfect service possible. The best Korean Translations works with a team of professional language experts who work 24×7 to cater to the continual requirements of the customers. Therefore, any time you need any type of translation, just contact us.
While many of the translating experts render field specific services, the specialized Korean To English Translation services will provide versatile services to the clients. The team of adept linguists is also specialized in areas like law and litigation, scientific research, business, academic and many more. In addition, we offer solutions for documentation and marketing literature of products and services to and from Korean. Technical translators are also available for Korean website translations and other technical translations. Our mother-tongue linguists are familiar with highly specialized domains of science and technology vertical industries.