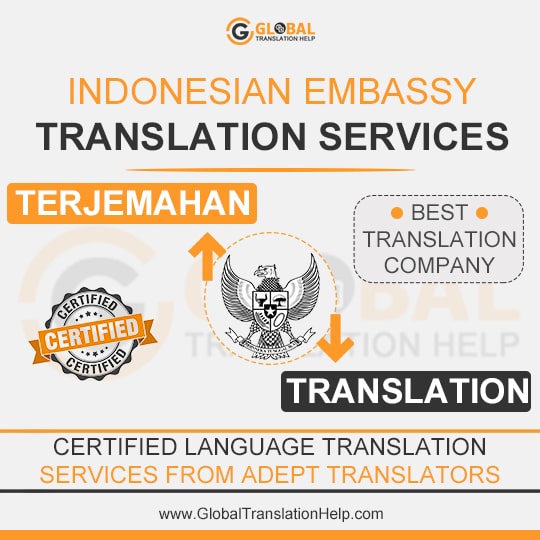 ACCURATE INDONESIAN EMBASSY TRANSLATION SERVICES
Do you want online Indonesian Embassy Translation Services on time? If yes, then you're just at the right place. Our company provides you with the highest quality Indonesian Embassy translations with utmost accuracy. That is to say, we employ only certified Indonesian translators who native speakers of the country. In addition to it, they have years of experience in translating documents for Indonesian Embassy.
We specialize in different types of Indonesian document translations for instance legal, economic and personal documents for immigration purpose or otherwise. Hire Indonesian Embassy translators to certify your documents to be valid for the Home Office and any other legal institutions. Moreover, get assistance in legalization and notarization of documents as well.
Pay to get Indonesian Embassy translation help from the top translation company in this industry. Above all, we offer all kinds of document translation which you need for immigration purpose. All your Indonesian embassy translation are carried out on the basis of your requirements and needs. They offer accurate translation of all the documents so that you can get flawless migration procedure at USCIS, ICA and Indonesian embassy.
---
INDONESIAN EMBASSY DOCUMENT TRANSLATIONS FOR IMMIGRATION
Do you need an official translation company to translate your immigration documents for Indonesian Embassy? We provide Indonesian into English translation when it comes to translation for immigration documents. Moreover, you will receive an official document translation validated by Global Translation Help; an official professional translation company.
Hire native professional translator of Indonesia to therefore help with various kinds of translations. For instance, if an Indonesian student went to Singapore for higher studies need to submit proof of academic documents of selection in the English language. Therefore, the translations of academic documents such as application form, academic certificate from the educational institute, etc are translated by the expert translator from Indonesia to any language you want. So. some of the major documents for which we provide USCIS Translations are:
Passport Translations
Permanent Residence Card
Birth Certificate
Work/ Study Permit Translations
Immigrant Visa
Tax Returns
Refugee Travel Documents etc.
With our translation for immigration services you can therefore have your Indonesian Embassy documents translated and certified in 24 hours or less. Moreover, our expert translators from Indonesia are ready to take on any task and depending on your needs. So, you can have your documents translated the same day!
MULTILINGUAL INDONESIAN TRANSLATORS FOR AFFORDABLE TRANSLATIONS
Various Embassies demand for translated documents for immigration. Therefore, many immigrants seek for translation agencies that provide 100% manual translations as accuracy matters a lot for them. Whether it is Visa translation or death certificate translation, complete manual translation can deliver the most satisfactory result. Manual translation does not go for word to word translation. So, translated text becomes easier to read and completely accurate.
We have a huge team of multilingual Indonesian Translators who are au fait with different linguistic nuances. Moreover, these translators can translate all your documents according to the Indonesian Embassy requirements. Further, they have rich vocabulary and creative skills to present natural yet accurate Indonesian Embassy translation. Some of the many languages our linguists translate to/ from many languages, for example
| | | | |
| --- | --- | --- | --- |
| English | Arabic | Bengali | Burmese |
| Thai | Malayalam | Estonian | Chinese |
| Hindi | Bengali | Greek | Cambodian |
| Malay | Punjabi | Korean | Japanese |
Clients want us to be fast, cheap and to provide quality. Therefore, we promise to meet all those expectations. Moreover, our transparent pricing policy has been structured to offer all our clients best value. Whether your brief is complex, technical or straightforward, you'll benefit from exceptional value and a market leading Indonesian translation service that's charged by the word.
---
GUARANTEED ACCEPTANCE FOR INDONESIAN EMBASSY TRANSLATION
Global Translation Help provides certified translation for passports, birth certificates, diplomas, any type of personal document, from/ to any language. Moreover, all our translations are guaranteed to be accepted by the Indonesian Embassy and will clear the immigration process. That is to say, we have an 100% acceptance for all past translations. Therefore, you won't have to face any rejections from any legal authority.
Above all, the translated documents are fully accepted by the Embassy of Indonesia, ICA, USCIS, etc. This is because the translation is done by those Indonesian certified translators who are actually the certified for ICA. Moreover they even make provisions of certifying your translated document. Further, our company is here with accurate document translation services for immigration in over 200 languages! In addition to it, we give you certificates of authenticity that will make sure your translation is good for the USCIS office. So, for all your translations for Indonesian Embassy, you just need to contact us.