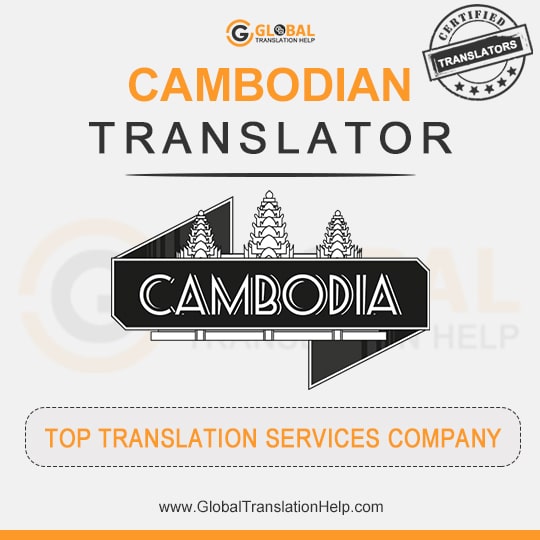 BEST ONLINE CAMBODIAN TRANSLATION SERVICES
Are looking for online Cambodian Translation services at budget? You're just at the right place. Global Translation Help provide experienced translators to comfortably turn around any Cambodian document at a price that is more than competitive. Therefore, you can get any document to us for translation, and we will do it for you. Hire expert Cambodian translators with many years of experience and thorough knowledge of the languages and subject matter involved.
Cambodian, or Khmer, is the language of the Khmer people and the official language of Cambodia. It is the second most widely spoken Austroasiatic language, with speakers in the tens of millions. Khmer has been influenced by Sanskrit and Pali, through the vehicles of Hinduism and Buddhism. However, our team has an extensive network of native Cambodian-speaking translators who will provide accurate, fast, and economical translations.
With an enthusiastic squad of Cambodian translating experts ready to respond to your Cambodian translation requests. Moreover, we are capable of processing shorter documents within 24 hours and professionally handle complex documents quickly and accurately. Here we provide a range of services including legal translation services, medical translation, financial translations and more.
---
200+ LANGUAGE TRANSLATIONS TO/ FROM CAMBODIAN LANGUAGES
We have a huge team of In-country Cambodian translators and proofreaders who make sure your translation is accurate, natural and fluent. Moreover, they provide efficient, authentic, and error free Cambodian translations for a wide range of languages, from a few paragraphs to full publications. Therefore, if it's a quality translation of Cambodian documents you are after in quick time and at a reasonable cost, then look no further.
Global Translation Help employs skilled workers with high language proficiency and deliver all types or translations. For instance, be it certified or notary translation for Cambodian documents or even normal translation, we will do it. Moreover, our native certified translators from Cambodia will acknowledge quickly and effectively to all your translation needs. Above all, we work with 75+ language proficient translators in various areas of specialization. Some of 200+ languages for which we offer translations are below:
| | | |
| --- | --- | --- |
| Bulgarian | Dutch | Indonesian |
| Croatian | Italian | Estonian |
| Irish | Tagalog | Romanian |
| Korean | Spanish | Swedish |
Moreover, they provide premium Cambodian Translation Help for a wide range of documents and languages. Most importantly, we have been successfully delivering Cambodian document translations for many years. Therefore, we continue to earn a reputation for being a reliable, hassle-free and accurate Cambodian translation service provider.
HIRE ATA CERTIFIED TRANSLATORS FOR CAMBODIAN TRANSLATION SERVICES
Most of our Cambodian expert translators have extensive experience with specialist industries, and can provide translations for almost any document. So, just contact us directly for further information about specialist translations to or from Cambodian. Firstly, most of our Cambodian translation specialists are certified or accredited with ATA, DLPT, CMI or other professional translation associations. Secondly, all the Cambodian documents translated by our experts have guaranteed acceptance. So, no legal authority will ever reject the document translations by our Cambodian experts.
Most importantly, when using our Cambodian translation team you draw on the expertise of a dedicated group of native speaking in-country translation pros. All of our Cambodian translators are native Cambodian speakers who are trained, experienced, and qualified to translate between their specialist languages and Cambodian. However, many of them are also professionals in other fields, and can provide specialist translations in various areas. For instance Cambodian academic translation, Cambodian medical translation, and Cambodian marketing translation.
We have expert translators capable of highest quality Cambodian translation services. They will deliver you with premium translated papers. Moreover, with experts working from across the world, we are capable of pleasing all our clients by reaching up-to their expectations. Using the full width of knowledge and ability of our translation team, we present a broad range of Cambodian linguistic services to various clienteles. So, no matter, which industry you are from, or what document you want to translate into what language, just come to us.
---
EXCLUSIVE FEATURES OF AVAILING OUR CAMBODIAN TRANSLATIONS SERVICES
We have hired a huge team of native Cambodia translators who are proficient in their mother tongue and its grammatical structure.
We offer all types of translations, for example in case you need notary or certified translations, we will do it for you.
Our experts also offer Ghost writing services apart from translation, editing and proofreading services at budget.
All our Khmer translation services are 100% human translated, therefore will be accurate and natural.
Our ATA certified Cambodian experts provide the most accurate, authentic and error free translations at cheap prices.
Multilingual translators for 200+ languages including all European Union and Asian languages and provided by our experts.
Only error-free and flawless translations are delivered by our experts, But in case you don"t like anything, feel free to contact us. Unlimited revisions are provided by us.