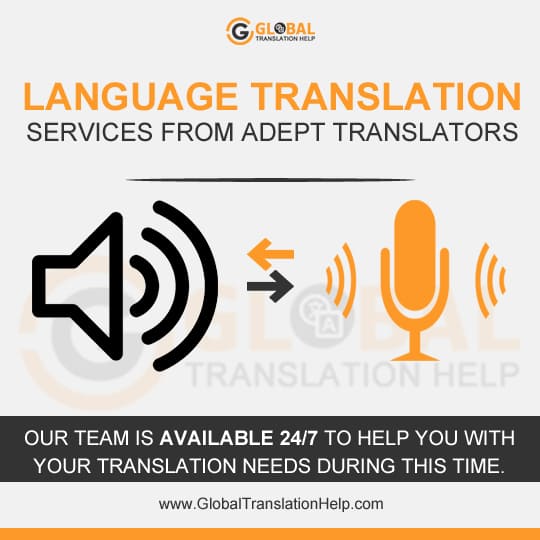 HIGH QUALITY LANGUAGE TRANSLATION SERVICES
Global Translation Help is registered leading agency for language translation in this industry. Our main objective is customer satisfaction by delivering premium quality Language translation services to them at affordable prices. We are working with team of 75+ native expert translators who are passionate for their language. Our experienced language translators have years of experience in this field. Moreover, have the readiness & ability to research in order to translate certified documents into any language. Therefore, if you are searching for Certified Language Translation Services in any part of the world, then we are the right language translation agency.
---
ATA CERTIFIED LINGUISTICS AND TECHNICAL TRANSLATORS AT YOUR SERVICE
The professional certified language translators are well versed having qualifications & experience in accurately expressing customer's ideas. Moreover, all the perfect language translators for hire we have in our team are certified from ATA, CMI, ACTFC, DLPT and other prestigious associations. Hire experts in language translation with perfect knowledge and skills to provide premium quality translations. Take paid Cambodian translation services from local Cambodian translators only at Global Translation Help. We have a huge team of well- trained pool of linguistics and native speakers available to certify your translated documents. Avail certified language translation services from professionals from our specialized language departments.
Certified true copy services by 75+ language professionals for 200+ languages at affordable prices is available. We can also help you in translating your software or app in any language with no alterations. Moreover, we promise to provide you both with no grammatical or typographical errors. Certified English language translation for any document, e-mail or letter can be availed from from our native translators.Converting any language into English translation or any other language is possible by our global translating experts.
All you have to ask is 'translate driver's license to English' or vice-versa and we will do it for you. Above all, our local translating professionals offer 100% secure and certified true copy for any language you wish for. All the documents translated are accompanied with a certificate of translation that proves the authenticity of the true copy. Moreover, our proofreading experts check the true copy before delivering it to you. Certainly, if anyone wish to take copy writing services, then our certified language translators also has expertise in that field. In addition to it, all the services of language translations we provide are 100% manual and authentic.
---
24*7 ACCURATE YET NATURAL LANGUAGE TRANSLATION HELP SERVICES
Most of the time, clients share their feedback from when they took services from other translation company, that either the translation wasn't accurate or it was obvious that the document was translated. The language translating experts in Singapore Translators possess high skills and rich vocabulary. Therefore, they can translate document with utmost accuracy and naturalness . Paying someone for universal translations can be the most effective and efficient way to get a perfect translation and we are the best in it. You may contact our language translating helpers anytime as we offer 24*7 customer support for our clients. We bet you won't find global translation Services better than us at such cheap prices. Be it any document, any language, if you need certified language translation help service within budget, we are your solution.