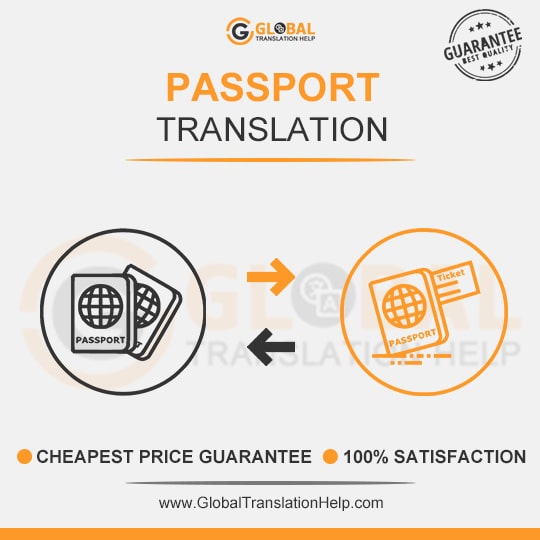 ACCURATE AND CERTIFIED PASSPORT TRANSLATION SERVICES
Do you want to get accurate passport translations on time? You're just at the right place. We offer officially accredited certified passport translation services for 200+ languages. Moreover, immigrants or travelers who passport is not in English usually seek for certified passport translation services. Therefore, a certified translation of passport is a requirement of many governmental agencies and other legal entities during document verification for various reasons.
Global Translation Help offers certified Immigration Documentation Translation services for officials use. Moreover, they have years of experience working over 200 languages like Malay, Croatia, Japanese, Korean, Thai, etc. You just scan your document, fill up the order form, our professional translator will convert it according to your needs then send your document through email. Further, we promise to deliver you the accurate and highest quality passport translated by native translators.
The passport is a crucial document, and therefore, its translation needs to be accurate and professional. That is to say, in order to reach that point of perfection, we offer for our clients, a full translation process. So, don't you worry about the accuracy or authenticity of the translations. We promise to therefore serve you with the best online document translation services at affordable rates.
---
PASSPORT TRANSLATIONS FOR A WIDE RANGE OF LANGUAGES
If a document which forms part of your passport application is not issued in English language, it's going to need a certified translation. Regardless of how basic the document, language or application is, it will need to be perfectly presented in English. Along with the original document, this will be an attached document.
We therefore have a huge team of bilingual translators who have high qualification and experience translating passport for various purposes. Moreover, despite the nature of your requirement, you must have an experienced translators who can translate passports with extreme care. The reason being passports are used worldwide for traveling purposes and reviewed by authorities, agencies, and institutions. So, some of the major languages in which our multi linguists translate passports are:
| | | | |
| --- | --- | --- | --- |
| English | Arabic | Bengali | Burmese |
| Indonesian | Malay | Croatia | Chinese |
| Hindi | Bengali | Greek | Cambodian |
| Thai | Punjabi | Korean | Japanese |
Most importantly, our translations are certified and stamped to verify that we are a Member of the Association of Translation Companies (ATC). Moreover, our certified language translations are accepted for most official purposes. So, drop all your stress about translation of passport and enjoy the trip. All you have to do is ask for 'translate my passport' and we will effortlessly do it for you.
IMPORTANCE OF PASSPORT TRANSLATION SERVICES
Global Translation Help has been constantly providing excellence in passport translation services for the past several years. Moreover, the benefits we provide for our customers, such as low prices and fast delivery of high quality services, had led us to the top of the translation industry. We are an ATA certified translation agency, specialized in proving fast, reliable and accurate certified translation services.
Passport being the official identification mark of an individual in an international setting, the translation has to be high quality translated by a professional translator. Our team presents TEP services for all our translations to check if the translation is error free. That is to say, one will translate, another will edit and the third will proofread the translation. Once we rectify all the errors and check the accuracy after that we certify the translation and send it to you by e-mail. We offer fast, accurate & competitively priced certified translations of a variety of documents, covering over 200 different languages from every corner of the world.
---
AFFORDABLE DOCUMENT TRANSLATIONS FOR USCIS
When it comes to travelling or immigrating abroad, most of us seek for online official translation services for all our documents. The USCIS has a particular set of requirement for approving your documents. We understand how sensitive passport translations are for the PR applications. That is why our expert passport translators has great expertise and qualifications to certify or notarize your passport. Moreover, they provide quality control and assurance procedures to make sure that your passport's translation is highly accurate and done with confidentiality and professionalism. We charge some of the lowest rates in this industry for our highest quality services and we are quick to deliver.
Our clients are an asset to us and we are always ready to assist them in their projects. The immigration specialists in our team therefore take care of the passport translations. Our prices are clear, reasonable and cheap, and we can deliver your translations on the same day, or within few hours if you require it urgently. So if you have a passport to be translated with a certification of accuracy, we are waiting for you to contact us anytime.