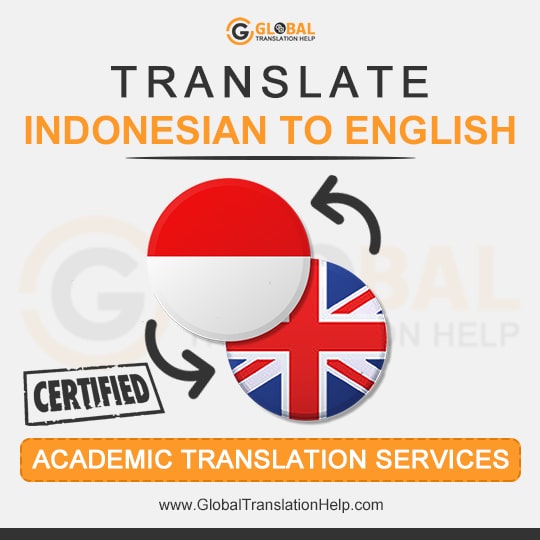 OUTSTANDING INDONESIAN TO ENGLISH TRANSLATION
Stressed about searching cheap yet high quality Indonesian To English Translation? Worry, no more. Global Translation Help is here to provide the best Indonesian language to English translation at affordable price. Moreover, our expertise goes far beyond a standard Indonesian translation service.
Above all, they are experienced native Indonesian translators who deliver a real competitive edge designed to get you noticed. We have a huge team or native Indonesian translating experts who can provide outstanding and authentic translations of your Indonesian documents into English. The translation only takes a few hours or even less than that. Moreover, all the Indonesian translations are 100% manual so it can be pretty accurate.
People from all around the world speak Indonesian language. More than 23 million people around the globe speak this language. For those Indonesian Speaker whose English is not strong, translating Indonesian to English could be quite difficult. Therefore, all our translators from Indonesia have great proficiency in both English and Indonesian. So, if you need English to Indonesian translations, Malay to English or any other language translations, just contact us.
---
CERTIFIED INDONESIAN TO ENGLISH TRANSLATION HELP FOR BUSINESS
All our Indonesian translations are certified by the agencies like ATA, CMI or DLPT. We have a vast network of solicitors and notaries working with us. Moreover, they can legalize the signature of the Indonesian certified translator with a notary or solicitor. Your translations of Indonesian documents can be certified as True Copies of the original as well as legalized by a Notary or a Solicitor.
Moreover, in order to Translate Indonesian to English, manual services has been used quite commonly. Various business sectors seek for online translation services, and they mostly depend on manual services, as accuracy matters a lot for them. Whether it comes to Translate Bahasa Indonesia, complete manual translation can deliver the most satisfactory result. Some of the major business or website documents which we translate are:
Law firm Commencement
Laws and regulations of the firm
Informational website
E-commerce website
Meeting Reports
Directory
Mobile device translation
Writer's Website etc.
We offer Indonesian translation help to public as well as private sector law firms, educational institutions, businesses and individuals from all over the world. So, hire professional Indonesian translators who have a wide breath of experience and specialism.
ORDER NOW! ACCURATE INDONESIAN TO ENGLISH TRANSLATION ON TIME
We employ expert native translators who have vast experience working with different industries and agencies worldwide, and Indonesian expertise is in high demand. Moreover, we cooperate with officials at the national, regional, and local levels to complete projects on time and on schedule. Our writers, editors and translators are renowned for their strict security standards and on time delivery.
Accurate Indonesian translation Help is provided by Indonesian translators who have a wide breath of experience and specialism and only translate into their mother tongue. Above all, our Indonesian linguists are carefully vetted and adhere to our quality standards. Therefore, we promise to never fail you and present the best services of Indonesian to English Translation on time.
Translate Indonesian Bahasa is a professional job, which needs expertise as well as knowledge from the end of the service provider. So, if you want to obtain seamlessly translated documents to English you should be careful to choose the right service provider. Professional translation agencies promise to provide accurate translations, but since they use machines to translate, they fail to do so. Therefore, Global Translation Help experts are able to deliver 100% accurate, authentic and error free English document translated from Indonesian.
---
MULTILINGUAL NATIVE TRANSLATORS AT YOUR SERVICE
We have a huge team of linguists proficient in multiple languages. Firstly, our Indonesian translators have extensive experience in assisting businesses with international trade. Secondly, they have also served in areas of translations ranging from personal, legal, corporate, financial, academic, immigration and more. At last, many of our certified translators provide multilingual translations for all Indonesian documents.
Our cheap and affordable pricing policy has been structured to offer all our clients outstanding value. Whether your brief is complex, technical or straightforward, you'll benefit from exceptional value and a market leading Indonesian translation service at just nominal prices.
So, no matter what Indonesian document you need to get translated. Buy premium Indonesian-English translation services from native multilingual translators. They offer all their services at cheap prices however with utmost accuracy, clarity and naturalness.