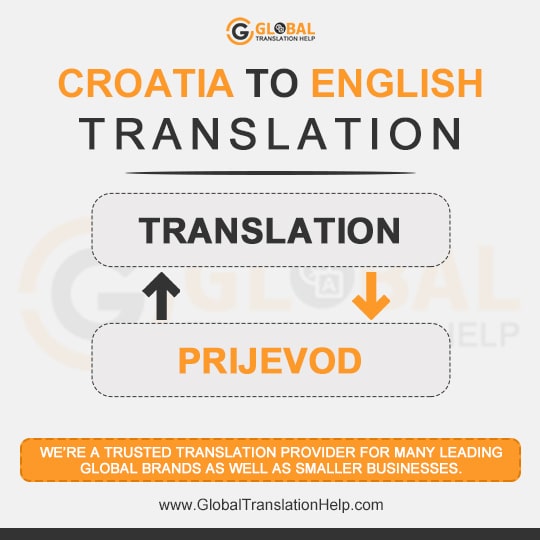 EXCLUSIVE CROATIA TO ENGLISH TRANSLATION
Many people seek for online Croatia To English Translation services. Whether you want Croatian Translators for industry meetings, legal, medical, or even personal motives, Global Translation help can give you with friendly and specialized bilingual experts. Moreover, our certified Croatia to English Translation Services are accessible 24/7 for all language translation needs for over 200 languages. The linguists who translate Croatian to English are highly skillful within the translation industry. Further, their systems of internal testing and confirmation ensure clients get the utmost quality translation. They can grant certified Croatian To English for almost any country including legal certified translations.
Croatian is now the official language of Republic of Croatia and including Serbian and Bosnian, one of the 3 languages of Herzegovina and Bosnia. A language with a great and rich history and culture necessitates best quality Croatian Translation services. The professional Croatian translation services have been working to serve clients with top-notch services. Our experienced and qualified American translators offer a variety of translation services from Croatian. Moreover, our Croatian translators are able to offer translations of legal, medical, business documents, websites from Croatian to English and into Croatian . We offer a certified Croatian translation service. So, no matter what kind of document translation you want, we will do it for you at cheap prices.
---
CROATIA TO ENGLISH TRANSLATIONS FOR ALL DOCUMENTS
You will be reassured to that our team of native speaking Croatian translators provide professional Serbo-Croatian to English translations. Moreover, they have a minimum of 5 years' experience, also specialized in different sectors. Working across a diverse range of institutions in the public and private sectors, our rigorously screened professionals all have a proven best records. Therefore, we provide a complete range of Croatian translation services to companies worldwide.
Our expert Croatian translators and proofreaders are all fully qualified professionals, ensuring that our translations are all of the same consistently high standard. Some of the many document translations services that we translate to English are:
Driver's License Translation
Passport Translations
Birth Certificate
Work Permit
Court Orders
Meeting Reports
Wills
Affidavits
and the list goes on. So, all you have to do is place an order and we will get you everything you need. Moreover, all our Croatian to English translators are native speakers of the language they translate as per the latest translation certification standard. We can provide different types of translations for all industries for instance to law firms, businesses, technical firms, IT sector and many more.
CERTIFIED CROATIAN TRANSLATIONS AT AFFORDABLE RATES
Seeking for a fast, confidential and accurate translation service for your Croatian passports, birth, marriage and academic certificates? Our Certified Croatian and English Translation Service has universal acceptance by all legal authorities. Above all, our rates are low, the quality and accuracy of our work is exceptional and we can usually process your documents within 24 hours. Quality and value define our industry's leading Croatian- English translation service. In addition, our transparent pricing policy is designed to deliver outstanding value for money. Because we charge by the niche and technical sector clients enjoy the same great low prices and accurate Croatian to English translation help.
Many of the translation service providers hire translating experts who not only possess the required skills with translating documents of different field, but they are also the native speakers of the language. Therefore, it makes Translation of Croatian document flawless. Moreover, the completed work is as accurate as the content in the original document. We guarantee an excellent quality of Croatian translation in each industry by making sure we assign every translation to the most appropriate specialized team of highly qualified Croatian translators, proof-readers and editors. Most importantly our native English translators offer TEP ( translation, editing and proofreading) services for all our translated documents.
---
100% HUMAN TRANSLATIONS WITH UTMOST AUTHENTICITY
We promise that the help with Croatian to English translation that we provide are all manually translated. That is to say, no machine translation is used by us as it leads to distraction from the original content. Moreover, the Croatian translators offering Croatian to English translation possess the globalization know-how for businesses of all industries. Whether your Croatian-English translation assignment is complex, technical or more basic in nature, we always have experienced translators on hand to deliver, with expertise in a number of areas, from technical computer jargon to legal terminology.
We offer Croatian to English translation and vice-versa for any number of industries and fields. It is especially critical to ensure accuracy in medical and legal translation services, where any small mistake could result in severe consequences or outcomes. Technical translators for technical translations services are also available by our proficient translators from Croatia. So, if you need authentic and accurate translations, we are indeed the best choice.