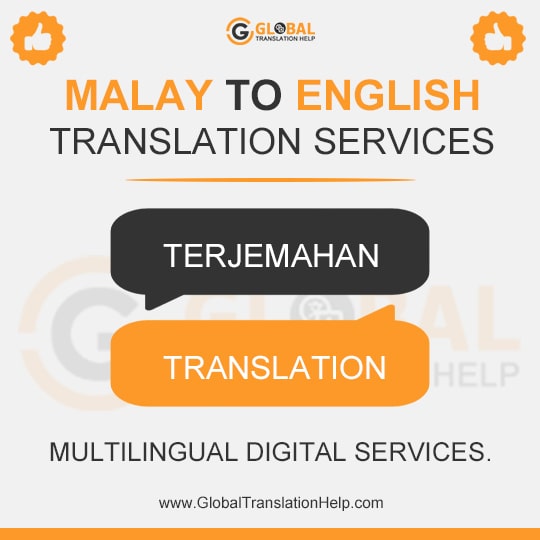 PREMIUM MALAY TRANSLATION SERVICES
Global Translation Help provides efficient, accurate, and error-free Malay translations for a wide range of projects, from a few paragraphs to full publications. We can also provide Malay translations in 200+ languages for individuals, businesses, and organisations. Moreover, many of our Malay translators have extensive experience with specialist industries. They can provide translations for Malay documents for almost any situation.
Our Malaysian translating experts can provide masterful Malaysian translations for your company. Moreover, translators use their extensive experience and diverse talent to deliver a premium quality Malay service. We employ the best translators around with experience in certified Malay translation services with various regions of native Malay speakers such as Malaysia, Indonesia and all others adding onto the list. They understand the various dialects and speaking styles of the Malay language that occur in various regions very well.
The reputed translation company always hire specialized Malay language translators who are expert in different language combinations. Hire certified translators from Malaysia who can assure to serve you with the best Malay Translation Help. The Malay language translators possess great expertise in different fields including legal, financial, immigration, medical and technical and so they offer services in all these fields.
---
ATA CERTIFIED MALAYSIAN TRANSLATORS AT YOUR SERVICE
The Malay language is a bridge between all the lands in the greater Asia Pacific. The language is common to the countries of Brunei, Malaysia, Indonesia and Singapore and combines these tourism friendly and beautiful regions in one strong bond of mutually spoken language. The person who can speak Malay can understand the entire Pacific strip easily. Therefore, all the translators we hire from Malay have high language proficiency and great knowledge.
Global Translation Help a Malay translation corporation is certified as per ISO and USCIS. They also provide help with Malay translations with more than 75 expert native Malay translators across the world. They offer services of Malay translations in diverse fields such as automotive, biology, management, literature, marketing, mathematics, IT (Information Technology), and website translations. We present Malay Translation Services in every language pairs.
Our services range from multilingual translators, to document translation and proofreading services. All of our linguists possess industry specific knowledge. So rest assured we will provide you with the perfect Malaysian translators for your project. We realize that cheap, inaccurate translations can be damaging for a business. So, contact us for a high-quality Malay translation service at affordable rates.
EXPERT MALAY TRANSLATION SERVICES FOR 200+ LANGUAGES
Our skilled and experienced Malay translators have diverse backgrounds in a wide variety of areas. We will provide the best translation for all of your medical, financial, legal, marketing, and any other type of document you may need to have translated. Moreover, we will make sure that your Malay document translation is up to the mark in terms of quality and accuracy and affordability. Above all, we also strive to deliver as soon as we can, and we offer 24/7 assistance to suit your needs.
All Malay professional translators are locally situated within that nation to guarantee that all content is ethically relevant and suitable. Moreover, we work with a huge team of Malay linguists who can translate to/ from Malay language. Some of the major languages we translate are:
| | | | |
| --- | --- | --- | --- |
| English | Arabic | Cambodian | Burmese |
| Korean | Estonian | Tagalog | Chinese |
| Hindi | Bengali | Greek | Indonesian |
| Malay | Punjabi | Thai | Japanese |
We provide professional Malay to English or any other language translation you need. Moreover, all of our Malay translators are specialists with qualifications, certification and many years of translation experience. We translate documents, handbooks, websites, books, or user guides, and therefore support all forms of translations.
---
MALAY TRANSLATION SERVICES ACROSS VERSATILE INDUSTRIES
Because of our extensive experience working with professionals and companies in all sectors of industry, we know how important it is to make sure you get matched with a linguist who's an expert in your field. However, we have an extensive network of native Malay-speaking translators who will provide accurate, fast, and affordable translations for a wide range of sectors. For instance, if you need Malay business document translation,legal translations, website or even academic translations, we will do it for you.
Global Translation Help is the number one provider to translate English to Malay or vice-versa. It is because of the 24/7 active customer support staff, economical fixed rates & accurate, reliable content. Above all, to make sure the highest level of precision, we offer TEP services i.e. translations, editing and proofreading. Further, if you want to make any changes in the translated document, we also offer unlimited revisions to all our clients. Our main aim is customer satisfactions ad we promise to deliver you the premium quality Malay translation support at cheapest price.