177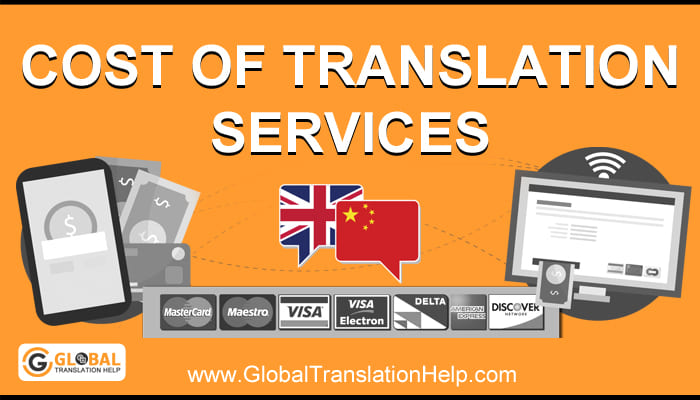 HOW MUCH WILL THE BEST COST OF TRANSLATION IF I HIRE AN ONLINE TRANSLATOR?
When one needs translation, the foremost factor that affects the decision of choosing the agency would be the cost. The cost of translation plays an important role in the decision making process to choose a translation company. However, the rate of translation services vary and depend on several key questions. And like any other service, people want to know how much translation services prices before getting too deep in the process.
We can determine the price of translation on two basis; per word or per page. The per page translation cost is calculated by each word multiplied by the rate of translation per word. Per-word pricing is very convenient and fair for all stakeholders. Each quote is tailor-made to the clients' specific needs.
However, we calculate per page rate of translation by multiplying the number of pages with the translation price per page. Per‐page pricing works well for documents where we cannot calculate electronic word count. For example, any documents scanned to a PDF file, such as medical records and court documents.

The average payable amount of translation services may vary depending on the following factors:
Type of translation
Source and Target language
Urgency of the translation
Complexity of the Subject Matter
Word Count
Expertise of the translator etc.
DIFFERENT TYPES OF TRANSLATIONS THAT AFFECT THE COST
Translation can be normal; that is translation of document from one language to another. Certified translation which is a translation along with certification that it's accurate and notary translations. The Notarized translations have higher rates as compared to the normal and certified as it needs a notary to certify the document. Hence, various types of translation and various additional services can raise or lower the cost of translation.
SELECTION OF SOURCE AND TARGET LANGUAGE
It is one of the important factors influencing the final cost of the translation. If both of the languages are similar to the native language then the cost will be less. Whereas if we take help with document translation for a rare language for example Urdu or Thai then the translation price will be comparatively more. That is to say,  if your original document is a commonly spoken language like English or Spanish, you're likely to pay less than if you're starting out with a file in Inupiaq.
URGENCY TO GET THE TRANSLATION
If you need to receive the translation, then you may have to pay more. To clarify, if  the standard turnaround time of a translation is 2 days and you  need it in a day, then you may have to pay more. If your project is urgent the price can be higher if not much higher than that of the non-urgent project. Depending on the lead time you want, the price can either increase slightly or double. But one thing is certain is that it will be expensive than the normal translation time.
COMPLEXITY OF THE SUBJECT MATTER OR INDUSTRY
Professional translation companies will have a team of certified translators to best handle the type of content needed for your translation. It is very important to know that the translation agency you choose has capacity ti handle you project. You should assure if they have proper resources to deal with your specific and narrow subject.
It's easier (and therefore cheaper) to find a translator for a blog post about current affairs. However, it is to find one who is capable of translating a detailed technical or medical document.  In this case hire a translator who has adequate and respective knowledge of your sector or subject. Technical translation requires subject-specific expertise, as well as superb language skills. There are therefore fewer of these kinds of translators available. Moreover, they will charge a premium amount for their specialist skills and knowledge.

WORD COUNT OR PAGE COUNT OF THE DOCUMENT
These are the basis on which one calculates the estimate amount of the translation. There are two types of methods by which we can calculate the cost of translation; word count and page count. Cost is determined by multiplying the number of words or pages in the documents to the cost of translation per word or page respectively.
However, different languages use a different number of words to calculate. 1,000 words in English equates to around 976 words in Dutch, for example, but to just 771 in Japanese.  If the document for translation translation is small the price will be quite little. But if it's lengthy, the overall price will be higher. Translating a document from English to Japanese is therefore much cheaper if you pay based on the word count of the translation, rather than the original.
But here is one good benefit with large projects. Some agencies may offer discounts for bulk projects, it can offer you the 5% to 15% (or higher) discount. Some agencies may reduce the price due to repetitions, some not. It also depends on the rate the agency works at.
EXPERTISE OF THE TRANSLATOR
The expertise of the translator or the translation agency affects the cost. That is to say, a professional translator with 10 years of experience will charge higher than a fresher.  A poor translation can result in poor sales and reputation damage. A good translation, with expert certification can result in the opposite. That's one of the reasons that it's so important to avoid machine translation when it comes to legal or business documents.
A certified translator with expertise and qualification will have a thorough knowledge about the industry he's working in as well as the language. Investing in a more experienced translator may therefore be higher but there will be less chances of rejections from the receiver as compared to a new translator. So, a background check is necessary before hiring a translator.
In view of the above the only way you can get a true idea of the cost of your translation is to obtain quotes from translation agencies or freelancers. Some agencies offer free quote prior you place the order, so that will give you an estimate idea of the cost of the service of translation.