1384 views
MULTILINGUAL VOICE OVER- MEANING & DEFINITION
Multilingual is someone who is proficient in more than two languages. Therefore, multilingual voice-over means voice overdone in several languages. We use it in numerous situations and can considerably reduce the multilingual video production costs. One may use voice-over recordings of texts in videos, presentations, and other media. Professional multilingual voice-over artists, therefore, enable you to relay the style, tone, and message of your script to an international audience.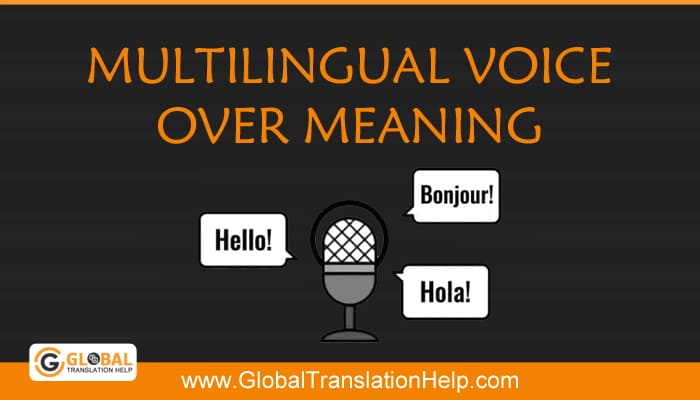 A voice-over artist is a person who lends his/ her voice to narrate a script or text in a video. For instance, a voice-over artist provides voices to animated movies, radio commercials, educational videos, etc. Many top companies in automobiles, production houses, or the educational sector hire multilingual voice-over artists to educate their customers.
For example, online applications like byju's make videos for the kids to learn. They use foreign language voice-over recordings for the same video and distribute it to their international students whose mother tongue is not English. By using the same video footage and overlaying it with foreign language recordings. It, therefore, helps to reduce production costs and control the message and tone.
WHAT ARE THE USES OF MULTILINGUAL VOICE-OVER SERVICES?
Multilingual voice-over is a production technique where a voice is added to a video presentation. This audiovisual technique, which, unlike dubbing, consists of recording a voice that we can hear in the background on the original video clip. Translation of the script of the original video into another language maintaining the integrity of the content is very important.
As one can face difficulties in learning a new language, therefore the business use voice-overs to expand their reach. Moreover, one may use multilingual voice-overs for short films, presentations, website narrations, training tutorials, e-learning software, games, etc. Further,  the production of multi-language voice-overs may result in greater customer engagement and brand expansion at an international level, and more sales.
QUALITIES OF A VOICE OVER ARTIST
The main aim of availing of multilingual voice-over services is the accurate translation of an audio clip. Therefore, to obtain a high-quality voice service, hire a voice-over linguist who has the following characteristics:
The foreign recordings might be longer than the original file and the audio will not match up with the video. So, the multilingual artist for voice-over should have the skills to accurately and timely match the audio and video.
The language translator should have proficiency in both the languages and their grammatical structures. Therefore, it is crucial to ensure the multilingual recordings will work well.
In some videos, there might be time restrictions or system technicalities. This inflexibility might cause issues as foreign languages often use more and longer words. Therefore, the artist for language voice-over should use accurate words keeping in mind the time limitations.
Most importantly, the artist should have a good clear voice. The most important factors are the tone, accent, gender, and age of the voice artist that will be most suitable for the target audience.